---
FAST FACTS HAWAII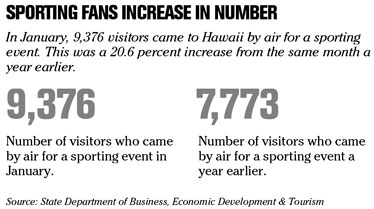 ---
NATION
Microsoft 'evaluating' Yahoo bid
SEATTLE » A person familiar with
Microsoft
's bid for
Yahoo
says the software company is evaluating its offer in light of the economic climate and the Internet pioneer's deteriorating business.
The person, who asked not to be named because he was not authorized to speak publicly, said Yahoo's share of the search market, stock price and overall condition have deteriorated since Microsoft announced its bid Feb. 1. At the time, Microsoft offered $44.6 billion. That's 62 percent above Yahoo's market value.
Yahoo's board has formally rejected Microsoft's bid, saying it undervalues the company.
Yesterday the person familiar with Microsoft's thinking said the company has been patient -- but will be so only to a point.
Official: Student loan fix ready
WASHINGTON » Education Secretary Margaret Spellings is seeking to ease worries that tight credit markets might make it hard for students to get college loans.
Spellings said in an interview yesterday that her department had reviewed the law and concluded that it has the authority to quickly free up money from the U.S. Treasury, if needed, to finance student loans.
She said the money would be provided so that guarantee agencies -- nonprofits that traditionally back student loans issued by banks -- can offer loans directly in a pinch.
Lawmakers, students and financial experts are worried that the nation's ongoing credit crunch may make it more difficult for students and their families to find loans. Nearly two dozen lenders have dropped out of the federally backed student loan program. That hasn't been a problem so far, because they aren't the biggest players and others have stepped in to provide the loans.
Speed urged in XM-Sirius deal
WASHINGTON » Lawyers for
Sirius Satellite Radio Inc.
and
XM Satellite Radio Holdings Inc.
asked the U.S. Federal Communications Commission to grant "prompt approval" of Sirius's planned $4.06 billion takeover of its larger rival.
Support from the broadcast regulator is the final hurdle for the companies after they won backing March 24 from the Justice Department. The lawyers made the request to FCC Chairman Kevin Martin on April 2, according to filings made public yesterday.
Opponents of the deal are also lobbying the agency, saying a combination of the only commercial U.S. satellite radio services would hinder competition with traditional broadcasters. Sen. John Kerry, a Massachusetts Democrat, urged Martin last week to consider conditions upon "what could prove to be an entity with strong monopoly power."
Fox sued over indecency fine
WASHINGTON »
News Corp.
's Fox network faces four federal lawsuits over its refusal to pay indecency fines for a 2003 broadcast of "Married by America" that featured strippers at bachelor and bachelorette parties.
The U.S. Department of Justice brought the actions yesterday after the Federal Communications Commission rejected an appeal from Fox, saying the company violated a 25-page length limit for pleas.
Prosecutors are seeking $7,000 against each of eight Fox stations in the lawsuits in Tennessee, West Virginia, Iowa and the District of Columbia, said Charles Miller, a Justice Department spokesman. The FCC on Feb. 22 sought $91,000 against 13 stations. Four paid and the fine against one was dropped because no viewers complained about the show, FCC spokeswoman Mary Diamond said in an interview.
WORLD
Samsung chief grilled for hours
SEOUL »
Samsung Group
Chairman Lee Kun-hee said today he must take responsibility for a bribery and slush fund scandal at South Korea's biggest business empire, as an independent counsel probe reached a climax with his questioning.
The 66-year-old Lee, who has run Samsung for two decades, emerged early today after nearly 11 hours under interrogation by special prosecutors examining the claims raised last year by a former Samsung lawyer.
"This is all due to my carelessness," said Lee, surrounded by reporters. "I am responsible for everything and must take responsibility."
"It was not clear, however, if the remarks amounted to any admission of wrongdoing. Upon arrival yesterday afternoon for questioning, Lee said he had nothing to do with ordering the alleged slush fund and bribes.
Ex-UBS chief: Bank should split
BERN, Switzerland »
UBS AG
, already wincing from massive write-downs caused by the subprime crisis, has taken another blow as a former CEO is pushing the Swiss bank to separate its private client operations from the stumbling investment unit.
A shareholder group cheered the proposal from the bank's former CEO Luqman Arnold and investors agreed, sending its stock higher yesterday.
UBS has reported write-downs of $37.4 billion for the past nine months -- so far the largest reported by any bank with exposure to U.S. defaults on risky mortgages. It expects first-quarter losses of $12.1 billion and said it would seek $15.1 billion in new capital.
Arnold, who was dismissed as CEO in 2001 in what was seen as a power struggle, said that may not be enough.


---
BUSINESS PULSE