Experts see rise in domestic abuse
A seminar discusses ways to make the issue a top priority
Domestic violence and child abuse are on the rise with increased stress from economic hardship, war, terrorism and trauma, says a national leader in the field.
These have been recognized as serious problems in the last 30 years, said Dr. Robert Geffner, founder and president of the Family Violence and Sexual Assault Institute in San Diego.
"But what hasn't changed nearly enough is none of these issues has become a national priority," he said in an interview.
The Bush administration has inflicted huge budget cuts on agencies that work on domestic violence and child abuse, he said. And such programs are among the first cut by states "in a deficit mode," he said.
"We have all sorts of organizations and funding for diseases, substance abuse and a variety of things, but the issues we're talking about affect many, many more people on a much more daily basis and have more profound effects lifelong.
"We are much more focused now on trauma from wars and terrorists, which is important," Geffner said. "But when we compare the thousands of people who are traumatized in those ways -- and I in no way minimize that -- to millions traumatized in their own homes and communities, it pales by comparison."
The goal, Geffner said, is to make these issues a national and state priority so more funding is available for prevention and intervention programs and research to determine the best preventive and treatment approaches.
Geffner is founding president of the San Diego-based Institute on Violence, Abuse and Trauma at Alliant International University. The institute co-sponsored the fifth Hawaii conference this week on "Preventing, Assessing and Treating Child, Adolescent and Adult Trauma."
Co-sponsors were the Kapiolani Child Protection Center, Prevent Child Abuse Hawaii and the Hawaii Child and state Health Department's Adolescent Mental Health Division.
Nearly 500 health professionals, judges, attorneys, policymakers, probation officers, educators, crisis and shelter workers and others who work on violence and trauma attended the three-day program, ending today at the Ala Moana Hotel.
Some people laughed in a separate session yesterday when Dr. Vincent Felitti, University of California clinical professor of medicine, suggested weaving anti-violence and parenting information into soap operas.
But he pointed out, "It's a huge audience and the bill is paid for. You don't have to worry about the Legislature appropriating money." Also, people are not likely to resist or even recognize that they are getting a message, he said.
Felitti is co-principal investigator of an ongoing Adverse Childhood Experiences Study between Kaiser Permanente and the U.S. Centers for Disease Control and Prevention. The study involves an in-depth analysis of more than 17,000 adult members of Kaiser Permanente in San Diego.
The findings show that what happens in childhood has an enormous impact on the nation's "burden of disease, disability and social malfunction," Felitti said.
Adverse childhood experiences -- such as physical, sexual and psychological abuse, emotional and physical neglect and a dysfunctional household -- are strongly related to problems later in life, he said.
They underlie obesity, suicide attempts, substance abuse, high rates of depression, use of antidepressants, promiscuity, many chronic diseases and other problems, Felitti said.
2 percent of infants victimized, study finds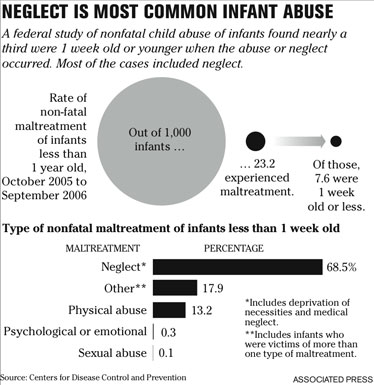 ATLANTA » About 1 in 50 infants in the United States has been neglected or abused, according to the first national study of the problem in that age group.
Nearly a third of the victims were 1 week old or younger when the maltreatment was reported, researchers from the U.S. Centers for Disease Control and Prevention said yesterday. The study focused on children younger than 1.
Most of these cases involved neglect, not physical abuse. In the case of the newborns, experts said the data suggests drug abuse by the mother might have been the cause for reports of neglect, but they could not be certain.
The researchers counted more than 91,000 infant victims of abuse and neglect during the study period Oct. 1, 2005 to Sept. 30, 2006. The information came from a national database of cases verified by protective services agencies in 45 states, the District of Columbia and Puerto Rico.
Associated Press