---
FAST FACTS HAWAII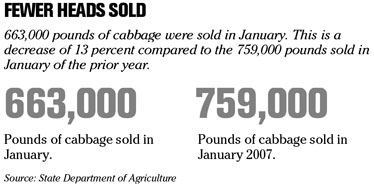 ---
HAWAII
More go! seats filled in March
Mesa Air Group
's interisland carrier go! filled a greater percentage of its seats last month than it did a year ago after flying fewer flights.
Go!, which began operations in Hawaii in June 2006, had a load factor of 67.8 percent versus 64 percent in March 2007.
Go! transported 54,604 passengers in March, down 5.6 percent from 57,856 a year ago. Its available seat miles, or one seat transported one mile, fell 8.5 percent to 11.9 million from 13 million.
Revenue passenger miles one paying passenger transported one mile fell 3.6 percent to 8.1 million from 8.4 million.
Go! also said its on-time performance rate was 89 percent, up from 88.3 percent a year ago, and its overall completion factor was 99.9 percent, up from 99.7 percent.
NATION
Mortgage rates move higher
WASHINGTON » Rates on 30-year and 15-year mortgages rose this week.
Freddie Mac, the mortgage company, reported yesterday that 30-year fixed-rate mortgages averaged 5.88 percent for the week ending April 3.
That was up from last week's 5.85 percent and the highest since the middle of March, when 30-year rates stood at 6.13 percent. A year ago, rates on 30-year mortgages stood at 6.17 percent
Rates on 15-year, fixed-rate mortgages rose this week to 5.42 percent from 5.34 percent last week.
For five-year adjustable-rate mortgages, rates dropped to 5.59 percent this week from 5.67 percent last week. And, rates on one-year, adjustable-rate mortgages averaged 5.19 percent this week, down from 5.24 percent in the prior week.
Northwest raising surcharges
MINNEAPOLIS »
Northwest Airlines Corp.
, citing soaring fuel costs, has raised prices on international flights, plans to freeze new hiring of pilots and flight attendants, and will cut its domestic schedule by 5 percent beginning in September.
The nation's fifth-largest airline said that it raised fuel surcharges generally by $10 or $20 each way for flights from North America to Europe, India, Japan and most other destinations in Asia on March 18. That brings the surcharges to between $115 and $155.
The surcharge on flights from Japan to North America will rise by $20 to $160 beginning May 1.
Northwest President and Chief Executive Doug Steenland said "the price of oil has risen dramatically to all-time highs and there is no reasonable basis to conclude that oil prices will materially decline anytime soon."
WORLD
Dell CEO plans more layoffs
ROUND ROCK, Texas »
Dell Inc.
is committed to reducing costs and will cut more jobs than the 8,800 previously announced in a bid to make the world's second biggest computer maker more competitive, founder and CEO Michael Dell said yesterday.
At the first full analyst meeting since 2005, Dell addressed the ongoing turnaround of the computer company, which was eclipsed as the world's largest PC maker in 2006 by Hewlett-Packard Co.
"To be very clear, we are not satisfied with the current state of affairs and we are on a mission to address this," he said.
Dell aims to cut $3 billion over the next several years to boost profits. Last year, the company announced plans to cut 8,800 jobs, or 10 percent of its work force. Today, Dell said the company would exceed the previously announced figure, but didn't give a new estimate.
Australian economy cools a bit
SYDNEY » Australia's economy is finally showing signs of cooling, but rising inflation remains a serious threat and another interest rate rise cannot be ruled out, the central bank chief said toda y.
Reserve Bank of Australia Governor Glenn Stevens said he expects inflation to remain "uncomfortably high" in the near term and would peak "at 4 percent or thereabouts" during the first quarter of this year.
The bank, which has raised interest rates a dozen times since mid-2002, believes demand is finally slowing, but more evidence is needed to confirm the moderation will be long-term and broadly based, Stevens said.
A long economic boom, driven by demand from China and India for Australian coal, iron ore and other commodities, has fueled inflation.
PROMOTIONS/NEW HIRES
» First Hawaiian Bank has announced the following promotions:
Iris M. Yoneda to assistant vice president and personal banking officer, main banking region from small business banking officer. Her 29 years of banking experience include Union Bank of California.
Carole A. Oshiro to assistant vice president and tax and reporting officer, trust service center from tax officer. She has 40 years of tax experience.
Dean Duque to assistant vice president and branch manager, Lahaina branch from branch manager. He joined the bank in 1993 and has held several positions at the King, Kahului and Kihei branches.
Leesa Kim to assistant vice president, main banking region from personal banking officer. She joined the bank in 2004.
George Pascual to assistant vice president and personal banking officer, main banking region from personal banking officer. He joined the bank in 1989.
» AIG Hawaii Insurance Co. has announced the following promotions:
Raleigh Awaya to executive vice president of technology and operations. He is also executive vice president and director of AIG Hawaii Technologies and AIG Hawaii Pacific Technologies.
Ann Nakagawa to chief financial officer of Hawaii operations and assistant treasurer. She will continue her duties as vice president and assistant comptroller, as well as comptroller for 50th State Risk Management Services and director of accounting for American Pacific Insurance Co.
Wenli Lin to vice president and chief marketing officer of AIG Hawaii and vice president of Hawaii Insurance Consultants.
Stephanie Tom to vice president and director of human resources and administration for AIG Hawaii.
» Aqua Hotels & Resorts has announced the following appointments:
Kahealani Doss to hotel manager of Aqua Palms & Spa from assistant general manager. She has also worked at the Kahala Resort prior to returning to Aqua in 2006.
Kristie Kim as assistant general manager for the Aqua Island Colony. She has 15 years experience in the hospitality industry.
Vince Mauldin as guest services manager for Aqua Coconut Plaza.
Keola Willing to guest services manager for the Aqua Palms & Spa from guest service agent at Aqua Waikiki Wave. His hospitality experience includes positions at Hawaiian Airlines and Double Tree Alana.


---
BUSINESS PULSE