| | |
| --- | --- |
| | Newswatch |
---
State shuts campsites over hazard
Part of the Kalalau campground at Kauai's Na Pali Coast State Wilderness Park has been closed indefinitely to protect visitors from possible rock falls in the area.
Yesterday's closure followed an evaluation by the geotechnical consulting firm Earth Tech of high-hazard rock-fall areas that could affect campers near the waterfall. Sixteen campsites have been closed, but the rest of the campground remains open.
The Department of Land and Natural Resources plans a detailed rock-fall assessment to determine how to mitigate the hazard and where to place alternate campsites.
"We are taking these actions to ensure the safety of park users now and in the future," said Laura Thielen, DLNR director. Closure and warning signs have been posted along the Kalalau trail between the self-composting toilet facility and Kolea Falls.
During the busy summer season that starts May 15, 60 people are allowed to camp at Kalalau each day. Information on Kalalau Beach camping permits is available from the state Parks Division's Kauai district office at (808) 274-3444.
Lingle taps 5 to be UH regents
Gov. Linda Lingle has nominated five people, including former University of Hawaii Board of Regents Chairwoman Kitty Lagareta, to continue service on the board.
Lingle still must submit seven more nominees before the Legislature adjourns, including a student regent, five Honolulu regents and a Kauai regent.
Besides Lagareta, the governor nominated businessman and former Big Island state legislator Harvey Tajiri, former Maui Circuit Judge Artemio Baxa, former Parker Ranch trustee Carl Carlson Jr. and Paradise Flower Farms co-owner Teena Rasmussen.
Two current regents -- Andres Albano Jr. and student regent Michael Dahilig -- were not selected by the governor. Their names were among five names on a list sent to her by a new Regents Advisory Council to fill two at-large seats.
The nominees must also be approved by the state Senate. Senate Education Chairman Norman Sakamoto and Senate President Colleen Hanabusa said they do not anticipate any controversy over the nominees.
City blasts EPA sewage decision
The city submitted its response Monday to the U.S. Environmental Protection Agency's decision requiring the city to upgrade to secondary treatment for its Sand Island Wastewater Treatment Plant, reiterating its stance that the change is unnecessary.
The city rejected the EPA's findings that said outfall at Sand Island exceeded the state's acceptable levels for pesticides, ammonia and toxicity, saying the criteria and collection methods were flawed.
Mayor Mufi Hannemann has aggressively argued against the EPA's tentative decision. The outfall from the current treatment methods don't pose any harm to Oahu's environment, Hannemann has said. The last day for public comment was Monday.
According to city estimates, upgrades at Sand Island would cost $800 million. A similar decision is pending for Honouliuli Wastewater Treatment Plant with upgrades costing about $400 million.
"It would place a huge financial burden on our taxpayers," Hannemann said Monday in a news release.
The EPA issued its tentative decision last year to reject the city's renewal for a permit that allows it to operate these two plants without secondary treatment.
The EPA said the city is not complying with the federal Clean Water Act because of its pesticides, ammonia and toxicity levels. It expects to have a decision by September.
Bank sues Lloyd's of London staff
American Savings Bank is suing certain underwriters at Lloyd's of London for paying only a portion of a loss it experienced stemming from an alleged embezzlement by a former employee.
The lawsuit filed yesterday in Circuit Court does not name the former employee. And it describes the embezzlement only as actions by a former employee.
However, it says the loss was due to a lawsuit filed by a former customer in August 2006 -- which the bank settled the following month.
Ada P.S. Lim and her son William S.Y. Lim sued the bank in August 2006, alleging former assistant bank manager Marylin P. DeMotta embezzled more than $900,000 from their trust account in 2004 and 2005. The bank and the Lims reached an out-of-court settlement in September 2006, the terms of which are confidential.
A federal grand jury indicted DeMotta last November charging on four counts each of bank fraud and embezzlement by a bank employee and two counts of theft of public funds. Her trial is scheduled for July.
| | |
| --- | --- |
| | Police, Fire, Courts |
---
NEIGHBOR ISLANDS
Big Isle police seek robbery suspects Hawaii County detectives are asking for the public's help in locating a 24-year-old man wanted as a person of interest in a home invasion robbery in Hawaiian Acres on Nov. 24.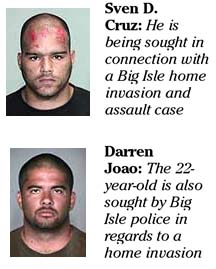 Sven D. Cruz is last known to have lived in Puna. He is described as about 5 feet 5 inches tall, 185 pounds, with a medium build, brown eyes and possibly a shaved head.
Police are also still seeking 22-year-old Darren Joao in connection with the case.
In the home invasion, several men entered the Hawaiian Acres home, two of them brandishing firearms and one wearing a mask, police said.
They reportedly demanded property and forced three men and a girl into a vehicle belonging to one of the victims and drove off. The girl was then removed from the car and sexually assaulted.
The girl was taken to Hilo Medical Center for treatment of her injuries. None of the other victims required immediate medical attention.
The suspects were last seen leaving in a truck and the stolen car, a white 2000 Chevrolet four-door sedan bearing Hawaii veteran's license plates F317.
The suspects are all males in their 20s or 30s.
Police ask anyone who knows the whereabouts of Cruz or Joao to call Detective Reed Mahuna at 961-2384 or the Police Department's nonemergency number at 935-3311.