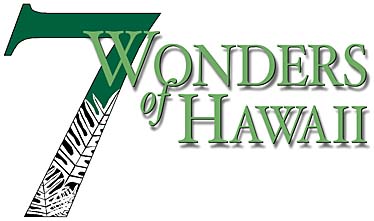 THE FOURTH WONDER:
HALEAKALA
The "House of the Sun" awes visitors as it shelters Hawaii's native species
Its crater is big enough to fit five Waikikis.
Its size is just 27 square miles short of equaling all of the island of Oahu.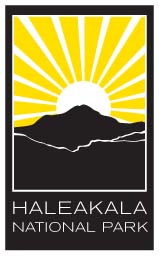 It is more than 2 1/2 times as high as the top of Oahu's Koolau mountain range.
The large but dormant and gentle Mount Haleakala has inspired wonder for centuries. It means so many things to so many people.
Early Hawaiians associated the "House of the Sun" with spiritual myths of creation and the demigod Maui, who ascended the mountain to lasso the sun and slow its journey across the sky.
Haleakala is a place of desert-like conditions, rain forests, forbidding weather similar to alpine tundra, and more.
Along varying climate zones on its slopes, farmers grow produce and flowers, including oranges, bananas, pineapples, strawberries, wine grapes, plumerias and tulips.
For 34 years, tour driver Richard Mau has brought busloads of visitors from Maui's hotels to the visitor center at Haleakala National Park at the 9,700-foot level. He and his passengers see the scenery change through seven climate zones, experiencing weather from Central American to Northern Alaskan in 37 miles of road.
In a matter of minutes, the bus is out of the green pastures and farmland of Kula into a gray rocky, cinder landscape. The vehicle grunts uphill. The air is thin.
Suddenly, the sky clears. Below are clouds and passenger jets. "They get so excited about it," Mau said. "It speaks for itself."
Mau said he never tires of driving up Haleakala, where the sky can change in a matter of minutes from icy rain clouds to glaring sun. "Every day is different."
Haleakala is as different as the bare lava rock landscape of La Perouse Bay and the green canopy of rain forests in Upper Nahiku in east Maui.
At its 10,023 summit, where snow sometimes falls in the winter, the weather and volcanic ash are so forbidding that very little grows, except for endemic plants such as the silversword.
While Haleakala has been the epicenter of extinction for native species in its populated coastal areas, it has been a refuge to many endangered species at higher elevations.
At Hosmer Grove along the fog belt at the 7,000-foot level, research biologist Art Medeiros gives guided tours to Maui Community College students in his natural history class.
Medeiros said that mosquitos transmitting diseases that kill native birds do not exist above the 4,000 -foot level.
Out of the native ohia forest in March come native honeycreepers such as the apapane and i'iwi, to feed on the seasonal nectar of the yellow mamane flower.
"The mountains of Haleakala are the only place for many honeycreepers, the jewels of Hawaii," Medeiros said. "You see them singing. They're amazing, and to think they're only found in Hawaii -- that's incredible."
» To visit: Park headquarters and the summit are about 90 minutes from Kahului. Haleakala National Park is open 24 hours, year-round, except for severe weather closures. Three-day passes are $10 for private vehicles and motorcycles; $5 for bicyclists and pedestrians. Call (808) 572-4400 or visit www.nps.gov/hale.