---
FAST FACTS HAWAII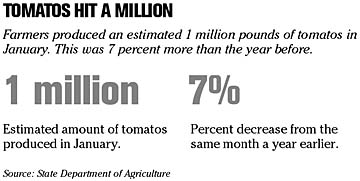 ---
HAWAII
McDonald's franchisee honored Hawaii McDonald's franchisee Victor Lim will receive a Golden Arch Award from McDonald's Corp. later this month.
From among more than 5,800 franchisees around the world, Lim is one of only 35 worldwide and 12 in the U.S. to be so honored.
"I'm tickled pink," he told the Star-Bulletin.
Lim started at the Fort Street Mall store in 1974 as a management trainee, later joined the corporation and was in charge of Asia-Pacific operations before becoming a franchisee in 1987.
"The first one I bought," was the Fort Street Mall store. He also owns the Queen Street, Dole Cannery, Ala Moana Shopping Center, Waimanalo, Enchanted Lake and Kailua stores.
NATION
Airlines cut profit outlook again WASHINGTON » The slowing U.S. economy and surging jet fuel prices have forced an international trade group to lower its outlook on airline profits for the second time in four months, with domestic carriers expected to take the biggest earnings hit.
The International Air Transport Association said yesterday it expects profits for domestic and foreign carriers to fall to $4.5 billion this year from $5.6 billion in 2007. IATA in December lowered its forecast to $5 billion from a previous estimate of $7.8 billion, due to higher oil prices and credit-market turmoil.
U.S. airlines' profits are expected to fall to $1.8 billion from an estimated $2.8 billion last year. "This could easily turn into a net loss should the current economic environment deteriorate further," according to IATA.
Auto sales drop in March
DETROIT » Automakers reported double-digit U.S. sales declines in March as demand for trucks and sport utility vehicles plummeted and consumers held back because of concerns about gas prices, the housing slump and tightening credit.
General Motors Corp.'s U.S. sales fell 19 percent, Ford's sales dropped 14 percent, and even industry stalwart Toyota Motor Corp. was down 10 percent compared with last March, according to figures released yesterday. Nissan Motor Co. fell 4 percent, and Honda Motor Co. reported a 3 percent drop.
Honda and Nissan saw increases in car sales, but those were offset by declines in truck and SUV sales.
Congress blasts oil profits
WASHINGTON » Don't blame us, oil industry chiefs told a skeptical Congress.
Top executives of the country's five biggest oil companies said yesterday they know record fuel prices are hurting people, but they argued it's not their fault and said their huge profits are in line with other industries.
Appearing before a House committee, the executives were pressed to explain why they should continue to get billions of dollars in tax breaks when they made $123 billion last year and motorists are paying record gasoline prices at the pump.
While Democrats hammered the executives for their profits and demanded they do more to develop alternative energy sources such as wind, solar and biofuels, Republican lawmakers called for opening more areas for drilling to boost domestic production of oil and gas.
WORLD
Toyota denies help on Prius TOKYO » Toyota Motor Corp. today denied it had received any funding from the Japanese government to develop its hit Prius gas-electric hybrid car.
Japan's top automaker rejected a March 24 Business Week report that quoted Jim Press, vice chairman and president of Chrysler LLC and a former board member at Toyota, as saying, "The Japanese government paid for 100 percent of the development of the battery and hybrid system that went into the Toyota Prius."
Press worked for 37 years at Toyota, including the years of research for the Prius. He left Toyota for Chrysler last September.
"I can say 100 percent that Toyota received absolutely no support -- no money, no grants -- from the Japanese government for the development of the Prius," Toyota spokesman Paul Nolasco said.
BRIEF CASE
TRADES PROBED:
Airbus' parent company vowed to defend top executives against charges of insider trading and violating market disclosure rules as French regulators readied charges. Regulators are trying to determine whether EADS executives and main shareholderssold shares when they found out that Airbus' massive jetliner, the A380, was running into construction delays.
---
[ TAKING NOTICE ]
AWARDS CERTIFICATIONS
» The Hawaii Hotel & Lodging Association has recognized the following Royal Lahaina Resort employees with the statewide Na Poe Paahana Awards for their service to hotel guests, co-workers and the community:
• Camilla Rose Lanse as "Housekeeper of the Year." She joined the resort in 1971 and is currently housekeeping training leader.
• Stella Padilla as "Food and Beverage Person of the Year." She is a waitress at the resort's Royal Terrace Restaurant and has worked at the resort for more than 40 years.
» LTC Financial Partners of Kailua has been honored with four awards by the American Association for Long-Term Care Insurance at its 2008 conference in Atlanta, Georgia. The following awards reflect the company's growth in size and national impact, and marketing excellence: Agent Consumer Web sites: "Gold Level Website/Public Relations Service," Direct Mail: "Florida Partnership Piece," Consumer Brochure: "Dignity for Life" and Sales Agent Contest: "Rocktober."
» Jeff White, CFP has been named to the LPL Financial Chairman's Council at the annual LPL Financial SUMMIT 2008 conference. The status is designated for less than 2 percent of all LPL advisors, reserved for those acknowledged for exceptional performance based on a production ranking of all registered advisors. White offers services in retirement planning at his office based in Hawaii Kai.
BOARD ELECTIONS
» The Association of Legal Administrators Hawaii chapter has announced its board of directors for 2008:
Darlene Loo-McDowell
, president;
Ann Hisamoto
, president elect;
Diane Sherman
, secretary;
Lori Isaki
, treasurer; and
Christine Imoto
, immediate past president.
Blane Fujiwara
is the association's regional officer.
» The Honolulu Youth Symphony has elected the following new directors:
• Richard Ing serves on the boards of Aloha Airlines and Marathon Group, and is a director of Variety School of Hawaii, Special Olympics Hawaii, USTA/Hawaii Pacific Section, Junior Tennis Committee and Kahiau.
• Keith Sakamoto is president of Hawaiian Host and has served as chairperson of the Nuuanu YMCA Board of managers since 2002.
• Jean Tsukamoto has served as president, treasurer and co-chair of Iolani Ohana's parents committee, and has also chaired the student Aloha Committee of Aloha United Way.
---
BUSINESS PULSE