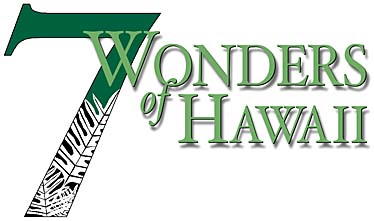 THE THIRD WONDER:
HANAUMA BAY
Oahu's sparkling crescent rebounds after becoming a marine sanctuary
To begin with, it's a jewel like no other -- a circular, turquoise window into the sea, as if the giants of prehistory created their own aquarium. It's that perfect.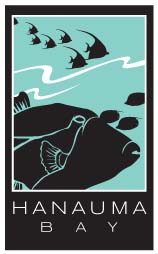 On the other hand, how is it pronounced? Hana means "bay" in Hawaiian, while uma has multiple meanings, including "curved" and "arm-wrestling," as if the two spits of land that frame the bay are in contention. So, is it pronounced hana-OOH-ma? Nope. The consensus is ha-NOW-ma, although you can add that little glottal fillip to the primary syllable, as in ha-NOW-(wah)-ma.
Either way, this Wonder elicits a wow every time you lay eyes on it. A tuff crater built up when molten lava encountered cool seawater and exploded. One side eroded away and allowed the sea to flood in. Diamond Head could have wound up like this. (And it still might: volcanic activity in this area only petered out about 7,000 years ago, a gnat's eyelash in geologic time.)
The bay is puckered into the swelling flanks of Koko Head, protecting it from the worst of wave activity. Most of the erosion inside the bay actually comes from wind. This creates a high, nearly vertical coastline around the bay, which adds to its mystique: you have to be right on it to see it, and the vantage point is so high above the bay that it spreads out like a natural tableaux. The view is highly cinematic.
"Hanauma Bay has such a neatly defined round shape, and it looks so appealing as you gaze down on it from the ridge above," said Hawaii pop-culture historian DeSoto Brown. "I think people can't help but want to trek down the hill to swim in it. And they do, in large numbers."
Hike down to discover that the beach and water are sheltered and warm, ideal for snorkeling, sunbathing and swimming. The city bought the site from Bishop Estate for a dollar in the 1920s and opened a park, bulldozing a paved road and walkway to the beach.
In the '50s, Hawaiian Telephone blasted a channel through the reef for a cable easement, which seems appalling today, but it goosed water circulation, making the bay even more sparkly.
The sheltered aspect was almost the bay's undoing. Like a terrarium, environmental forces were trapped there. Millions of bathers and beachgoers every year left a gloss of tanning oil upon the waters, a reef trampled, fish that forgot how to forage for themselves and a beach littered with debris. What went into Hanauma didn't come out.
Tough love was called for. In the '60s, fishing was banned. In the early '90s, the city shifted the focus of the area from beach park to nature preserve, with an emphasis on education and preservation. The number of visitors was strictly limited and restrictive ground rules established. Hanauma Bay became the state's first Marine Life Conservation District.
The bay currently gets about 3,000 visitors a day, less than a third of what it was struggling with a couple of decades ago.
» To visit: Hanauma Bay is open 6 a.m. through 7 p.m. (10 p.m. on second Saturdays) daily except Tuesday. Parking is $1. Admission is free to Hawaii residents and military; $5 for others. Call 396-4229.