---
FAST FACTS HAWAII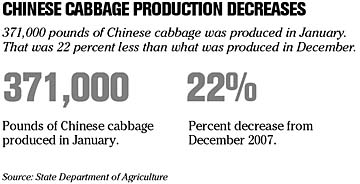 ---
HAWAII
Bankers join Foodbank effort The Hawaii Bankers Association for the first time will be collecting canned food and monetary donations for the Hawaii Foodbank.
A total of 279 bank branches will be collecting canned goods and money from April 1 through May 16.
HBA members, including American Savings Bank, Bank of Hawaii and First Hawaiian Bank, will be part of a new banking coalition within the food bank's campaign.
The food bank's goal this year is to collect 550,000 pounds of food and $450,000 in donations.
Boutique opens at Ohana hotel
Kuhio Collection
, a new specialty boutique, has opened at the Ohana East Hotel at 2379 Kuhio Ave.
The new concept store, a family-run business owned by Susan and Jim Phillips, caters to young girls and women with a selection of fashion apparel, swimwear, jewelry and accessories.
Brand names include fashions by Dean Alan, swimwear by Maui's Paula Daian, jeans by Liquid Roots, jewelry by Sergio Gutierrez and candles, fragrances, bath oils and soaps by Aromatique.
Susan Phillips said the store is interested in handmade items and unique, one-of-a-kind clothing and jewelry as opposed to mass-produced products.
NATION
Citi splits bank, credit cards NEW YORK » Citigroup said today it is splitting off its North American consumer banking unit from its credit-card business as Citi struggles to become profitable again after suffering its biggest quarterly loss in its 196-year history.
The latest move is the biggest sign yet that CEO Vikram Pandit, appointed in December, wants to fix Citi's major parts rather than sell them off to raise cash -- at least for now.
Citi's worst problems are in its investment banking segment, which made huge losing bets on the mortgage industry. But its bread-and-butter business of lending to and collecting deposits from average people has in recent years lost customers to rival banks such as JPMorgan Chase & Co. and Wachovia Corp.
Report blasts drugmakers
TRENTON, N.J. » Allegations from Congress that drug makers
Schering-Plough Corp.
and
Merck & Co.
hid negative research results to boost sales have cast a shadow over the companies' futures.
The Senate's Finance Committee and the House's Energy and Commerce Committee have been investigating for months how Merck and Schering-Plough handled data comparing Merck's Zocor against their new cholesterol drug Vytorin -- which combines Merck's Zocor and Schering-Plough's Zetia.
The Senate committee yesterday released new evidence the companies may have known long ago that research showed Vytorin was no more effective than Zocor but withheld it to pump up sales of Vytorin.
Merck shares fell $6.56, or 14.7 percent, yesterday to $37.95, and Schering-Plough's dropped $5.06, or 26 percent, to $14.41.
WORLD
Lehman sues Marubeni TOKYO » The U.S. investment banking company Lehman Brothers sued the Japanese trading company Marubeni yesterday, seeking to recover $350 million in financing it says was obtained fraudulently.
Lehman Brothers Holdings Inc. says employees of Marubeni Corp. helped arrange the funding for a since-failed unit of a Japanese health care company.
Marubeni Corp. has repeatedly denied wrongdoing as reports surfaced about the alleged fraud. It said it has not yet seen the lawsuit and could not comment. It reiterated it has no obligation to repay the money.
Both Lehman and Marubeni say they are cooperating fully with an investigation by the Japanese police.
BRIEF CASE
CRISIS OF CONFIDENCE
: Business confidence at major Japanese manufacturers fell to its lowest in more than four years in March, with the U.S. subprime crisis and weak corporate profits weighing on the economy, a central bank survey showed today .
INFLATION WARNING: East Asian nations must act promptly to ease the burden of mounting food and fuel prices on the region's poor, the World Bank said yesterday, adding that inflation poses a greater challenge to the region's economies than the current financial turmoil in the U.S.
---
BUSINESS PULSE