2008 STAR-BULLETIN FAB 15
GIRLS BASKETBALL TEAM
Rising to the top
Shawna-Lei Kuehu of the Buffanblu leads this year's girls Fab 15 squad
STORY SUMMARY »
Blood is thicker than water, even in the girls basketball universe.
That's why it was only fitting -- and expected -- that cousins Shawna-Lei Kuehu of Punahou and Jamie Smith of Iolani were neck-and-neck in the voting for the Star-Bulletin girls basketball player of the year.
With equally formidable intensity and dedication, Kuehu and Smith battled hard before the Punahou senior prevailed with a dominant performance in the state championship. By a tiny margin, the coaches and media voted Kuehu to the top honor, her third player-of-the-year award in four years.
The panel also voted for Mike Taylor of Punahou as coach of the year.
---
FULL STORY »
SHAWNA-LEI KUEHU, PUNAHOU
PLAYER OF THE YEAR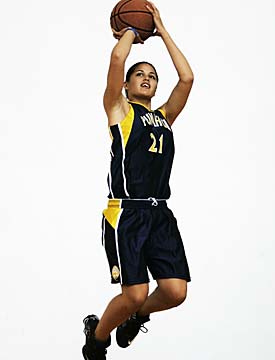 The two gems that thrilled fans in the girls ranks were virtually even in the Star-Bulletin Girls Basketball All-State voting.
In the end, as it was in the state final, Shawna-Lei Kuehu triumphed by a narrow margin. The Punahou senior outpointed Iolani's Jamie Smith -- her cousin -- 185 to 182 in the closest voting for player of the year in recent memory.
Kuehu suffered an ACL injury on Dec. 5, 2006, but recovered to play in her senior year. She started out cautiously, but as her knee got stronger, so did her game. She finished with averages of 15.2 points, 7.5 rebounds, 2.7 blocks and 2.6 steals per game as Punahou went 21-6 and captured its third state championship in four years.
Smith had a spectacular regular season, displaying her vaunted low-post skills. She unveiled a smooth 3-point stroke as a senior and was a guaranteed double-double machine for an otherwise small Raiders squad. Smith averaged 18 points per game, including highs of 27 points and 15 boards against Punahou in regular-season play.
Under the brightest spotlight, Kuehu was at her best in the state final against Iolani. With much of her explosiveness back, the 5-foot-10 center amassed 20 points, 13 rebounds and four blocks while limiting Smith to eight points and nine rebounds. It was a night that likely swayed the panel of coaches and media, perhaps unfairly, but longtime foes of both premier programs aren't offering a lot of sympathy.
"That's nice to have them graduating," Mid-Pacific coach Byron Cheng quipped. "Shawna plays all aspects of the game, offense, defense. Even though she's scoring 30 points, it's not like she's shooting every time she touches the ball. She's making everyone around her better. She's lived up to every expectation dealt to her."
Mid-Pac saw Smith score 23 points in a decisive win, but nearly upset the Raiders when she sat out a game with an injury.
"What I respect about her is she's become more of a versatile player. She took her game outside where she became more of a 3-point threat. We saw it in the summer, and it made Iolani so much better. Jamie can do it all," Cheng said of the 6-foot center. "Not to have to deal with them and spend hours of scouting time on them, that's going to be nice."
FIRST TEAM (in order of voting)
Player
School
Ht.
Class

Shawna-Lei Kuehu
Punahou
5-10
Sr.

Jamie Smith
Iolani
6-0
Sr.

Iwalani Rodrigues
Kalani
5-10
Sr.

Vicky Tagalicod
Hilo
5-9
Jr.

Shaena-Lyn Kuehu
Punahou
5-9
Sr.

Mana Hopkins
Konawaena
5-9
Sr.


Dianna Zane
Roosevelt
5-4
Sr.

Ta Nitra Byrd
Radford
6-0
So.

Chanel Hirata
Iolani
5-4
Sr.

Kamie Imai
Waiakea
5-8
So.

Janelle Nomura
Punahou
5-4
Jr.

Britni Ronolo
Moanalua
5-9
Sr.

Kira DeMorales
Waiakea
5-10
Sr.

Johnelle Kapua
MPI
5-5
Jr.

Marlena Malepeai
Radford
5-5
Jr.
Coach of the year: Mike Taylor, Punahou