Isle pages
"The Bittersweet Journey of This Samoan Boy,"
by Mika Tufuga-Valai (Outskirts Press, $12.95, via
amazon.com
)
Born in Samoa and raised in Laie on Oahu's North Shore, writer Mika Tufuga-Valai tells of his family's journey to the United States. The self-published autobiography covers his years as a boy in Samoa and how the strict culture formed a basis for his life.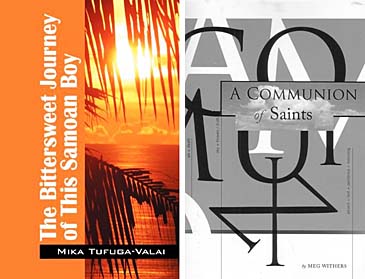 ---
"A Communion of Saints,"
by Meg Withers (Tinfish Press, $14, via
www.tinfishpress.com
)
The writer lives in California but spent nine years tending bar at Hamburger Mary's in Honolulu. Meg Withers writes in prose poetry of the gay bar scene of the 1980s, at the beginning of the AIDS epidemic. Through such characters as "ourgirl," she presents an unflinching look at this raw yet vibrant time.