Change adds up
I used to sell dope / I did play the block / Now I play on boats
In the south of France / Baby, St. Tropez / Get a tan? I'm already black
Rich? I'm already that
– 50 Cent, "I Get Money"
NEARLY FIVE years after his first visit, rapper 50 Cent returns to Honolulu this week with a bigger bank account and the unenviable task of balancing his mainstream appeal with the street credibility necessary to continue selling records.
But the artist born Curtis Jackson III isn't worried.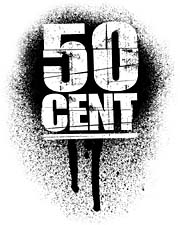 50 CENT
With local opener Afatia
In concert: 7:30 p.m. Friday
Place: Blaisdell Arena
Tickets: $49, $69 and $99
Call: (877) 750-4400
Instead, he continues to push forward and strive for success, expanding his reach in Hollywood and distributing his music for free via the Internet.
"There's not a lot of significance in my being successful," said 50 during an interview with the Village Voice last year. "There's a lot of successful people.
"The difference is my not having to compromise myself in any way. Not everything that comes out of my mouth is something you would hear from a role model. I'm inspiring to different classes of people out there, who have similar experiences."
The bottom line is, I'ma crook with a deal
If my record don't sell, I'ma rob and steal
You better recognize ... I'm straight from the street
These industry (dudes) starting to look like something to eat
– 50 Cent, "How to Rob"
WITH MORE than 21 million albums sold worldwide, it's obvious 50 didn't have to resort to the lifestyle that got him shot nine times in 2000. According to Forbes Magazine, in 2006 he ranked second among hip-hop artists with an estimated $32 million in earnings. Only Jay-Z made more money that year.
The cash doesn't come from just selling records, however. Along with concert tickets and event merchandise, 50 began to release DVDs like they were traditional CD "mixtapes" shortly after his solo debut in 2003.
The same year, he signed an exclusive deal with Reebok to develop and sell his own line of G-Unit sneakers. And 50 reportedly earned $100 million in profit for his stake in Glaceau after Coca-Cola purchased the beverage company last year.
50 has also successfully negotiated the jump from music to movies, landing roles in 2006's "Home of the Brave" and the upcoming "Righteous Kill" alongside marquee names like Robert De Niro, Al Pacino and John Leguizamo.
"I'm in a whole 'nother space, based on the finances from writing about it the first time," 50 said. "There are no real money references on 'Get Rich or Die Trying,' because I didn't have any money at that point. Now, I'll write 'I Get Money' and 'Straight to the Bank' because I'm in a new financial space."
I'm not for the games, I'm not for all the playin'
The hollow tips rain, when I unleash the pain
Get the message from my lines or get the message from the nines
Paint a picture with words, you can see when I shine
– 50 Cent, "I'll Still Kill"
THAT DOESN'T mean 50 has forgotten the formula that made him rich. His third full-length release, "Curtis," contains a number of gun and drug references alongside radio-friendly jams like "I Get Money" and "AYO Technology," which were nominated for Grammy Awards earlier this year.
While the accolades are nice, 50 has never forgotten where he came from or what longtime fans expect to hear on his records.
"I was poor for much longer than I been rich, so what you think I'm going still talk about," he asked during a 2005 Newsweek interview. "The two years I had money or the twentysomething years I didn't?"
In order to facilitate communication with fans and provide direct access to new promotional content, 50 launched the Web site www.thisis50.com.
Visitors can read the latest hip-hop news and exclusive online features, and the site is also used to distribute digital mixtapes for free. G-Unit's latest release, "Elephant in the Sand," has been downloaded more than 200,000 times since its release earlier this month.
As he nears the end of his current contract with Interscope Records, the success he's enjoyed in the online realm might affect the direction 50 takes in the future. He'll become a free agent after his next album, "Before I Self-Destruct," is released this year or next.
Will there come a day when fans won't be able to find an actual CD copy of the rapper's latest project in stores?
"I wouldn't commit to a major label again," 50 told King Magazine last year. "(But) I would probably finance it myself."