| | |
| --- | --- |
| | Island Mele |
---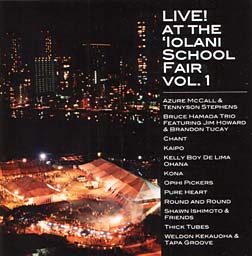 "Live at the 'Iolani School Fair Vol. 1"
Various artists (No Hum Yet)
'Iolani School embarks on a fresh fundraising campaign with the release of this compilation made during the school's annual fundraising fair. Someone had the foresight to roll tape when Pure Heart performed in 1999; the other cuts date from 2004 or later.
One of the gems in terms of rarity is "Basia Medley" by Azure McCall and Tennyson Stephens. They used to be a major force on the Honolulu jazz scene; having something by them here is a coup indeed.
Another great track, also jazz, is "F.S.R. (For Sonny Rollins)" as interpreted by the Bruce Hamada Trio. Not only does the group swing, but the liner notes reveal that Hamada is an 'Iolani grad, and that drummer Brandon Tucay was an 'Iolani junior when the group played the fair in 2005.
The Kelly Boy DeLima Ohana adds a Jawaiian standard with "Whatcha Talking 'Bout," a staple of DeLima's repertoire for years, and still a crowd-pleaser. Weldon Kekauoka and Tapa Groove blend Jawaiian and soul in "Freestyle," and Chant's imaginative rearrangement of "Will You Still Love Me Tomorrow" reminds us that it's possible to successfully apply new ideas to pop-chart oldies.
At least two selections capture the work of defunct acts. Jon Yamasato abruptly quit Pure Heart later in 1999, and Jake Shimabukuro and Lopaka Colon subsequently changed the name of the group to Colon. The Opihi Pickers recently announced that they will be taking "a long and significant break" from working together, so "Victim" could be the last we'll hear of them as well.
The album is available only from 'Iolani School. Call 949-5355 or visit www.iolanistore.org/faircdvol1.html.
---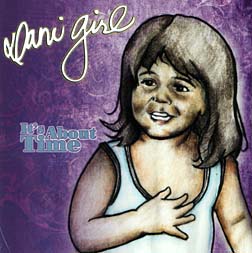 "It's About Time"
Dani Girl (Island Soul Entertainment)
Hana born Dani Waring is the featured voice on this project from Valley Isle producer Vernon Kapuaala. The rhythms are Jawaiian but the vocal arrangements show that Waring has pop market potential.
The singer and producer sets the mood with the lead-off track, "Crush on You." Title notwithstanding, the song is an original by guitarist/co-producer Kanoa Kukaua and not a remake of the Jets' 1986 vintage hit. It introduces the combination of steady Jawaiian/pop rhythms and smooth pop vocals that prevail throughout the songs that follow.
If you love one song here, you're sure to love 'em all. They represent the work of several writers, including Kapuaala and Kukaua, and they cover all aspects of romantic relations from that first crush to either happily ever after ("You And I") or heartbreak. The edge Waring brings to "Fed Up" and "Gotta Let You Go" shows that she can get into the emotion of a song in addition to singing sweet melodies.
Kapuaala (drums/keyboards) and Kukaua (guitar/bass) are the primary musicians. Since there's no ukulele, and because Waring sings without affecting a faux-Jamaican accent, this album belongs toward the pop end of the Jawaiian music spectrum.
John Berger
, who has covered the local entertainment scene since 1972, writes reviews of recordings produced by Hawaii artists. See the Star-Bulletin's Today section on Fridays for the latest reviews. Reach John Berger at
jberger@starbulletin.com
.