Big Isle weighs evacuations
The volcano continues to spew toxic gas into the air, and the mayor says it is a "serious concern"
STORY SUMMARY »
HILO » Big Island Mayor Harry Kim says evacuation of people near the volcano is possible, noting that the ongoing release of 2,000 tons a day of toxic gas into the air is a "very serious concern."
Yesterday, Kim tried to downplay the probability of an evacuation of Volcano village, saying getting information to residents with existing respiratory problems is a higher priority.
Kim was among seven county, state and federal officials gathered on a Hawaii Volcanoes National Park overlook to give an update on the sulfur dioxide gas plume that started March 11.
Behind him the plume billowed out of Halemaumau Crater and rose thousands of feet into the air, drifting safely to the southwest.
Only one community, Pahala, 19 miles to the southwest, was affected by the plume last week, and the gas and ash plume has not reached a problem level there, said state Department of Health official John Peard.
National park and volcano observatory officials said they would also evacuate if necessary, but "safe haven" buildings with air purifiers would allow essential personnel to stay.
---
FULL STORY »
HILO » If winds shift and throw a blanket of toxic fumes over populated areas of Hawaii Volcanoes National Park and nearby Volcano village, evacuations will be ordered, federal and county officials said yesterday.
But Mayor Harry Kim said no immediate evacuation of the community of at least 2,200 people is planned, and he is more concerned about getting information to people with existing respiratory conditions.
"I'm concerned about misinformation going out that we are planning for an evacuation," he said. But he added that the sulfur dioxide gas is a "very serious concern."
Kim and others spoke at an outdoor lookout point at temporarily closed Jaggar Museum in the park, with a huge plume of brown fumes from Halemaumau rising behind him.
As he spoke at a media update on the gas and volcanic ash, the air quality around him was normal.
At the busy park visitor center, 2.5 miles to the east, an automated display showed good air quality there, also. Sulfur dioxide at the visitor center was zero parts per billion, the display said.
Still, officials worried about a reverse in the wind carrying gas toward people.
Later in the day, Fire Chief Darryl Oliveira said four sulfur dioxide-monitoring instruments now in the area will be supplemented by five more from a National Guard Civil Support Team.
Information from them will allow respiratory sufferers to decide whether to simply stay indoors or to temporarily leave the area, Kim suggested.
In a general evacuation, officials will go door to door if necessary, he said. But he will not post police or other officials to enforce an evacuation if that would threaten their health.
"We know there are people who are going to hide or sneak in," he said. "You depend on the intelligence of people."
Volcano bed-and-breakfast owner Bonnie Goodell said that means even if an evacuation is ordered, "its effect is voluntary."
Having lived through bouts of gas from Puu Oo, Goodell is more concerned with looters in an empty community, she said.
Some people have worried about the gas producing acid rain that could foul their home water systems, which depend on rainwater. The gas plume would have to hover over a community for a week or more to produce notable acidity in water, said observatory chemist Jeff Sutton.
Evacuating the park and observatory would be easy, since there is a single road in and out.
Park Superintendent Cindy Orlando said certain buildings are set up with air purifiers as "safe havens" for essential personnel.
Observatory head Jim Kauahikaua said his facility can be run by remote control as long as computer links remain intact. Steve Brantley, the observatory's No. 2 man, said the building also has chemical filters to clean its air, and mattresses and sleeping bags would allow staff to stay overnight.
These are worst-case scenarios. Denny Ziemann, commander of a seven-person national park system team aiding the park, said the gas output could decrease before winds shift, or the winds' direction could flip-flop.
Community leader Betsy Mitchell said Volcano people are "extremely comfortable" knowing that officials are working on public safety.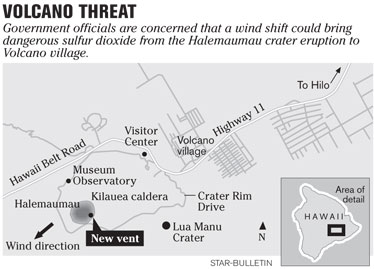 Sulfur protections
Simple precautions might be enough to handle sulfur dioxide if levels are not too high. The state Health Department recommends:

» Stay indoors, with an air conditioner if possible.
» Do not smoke or stay around secondhand smoke.
» Limit physical activity.
» Drink fluids, especially warm ones.
» Check your medicine and keep it handy.
» Call your doctor as soon as a breathing problem starts.