| | |
| --- | --- |
| | By Request |
---
Slim cookbook packs in lots of local faves
Zoe' Nabarrete and Cat Hookala put their minds and memories to work in creating "Hawaii's Lunchbox (Okazu) & Family Recipes." Their cookbook is filled with recipes that they developed or that came to them from family.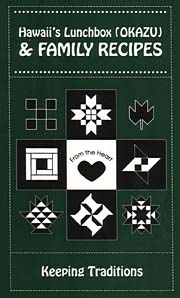 Bottom line: This is a no-frills book just 1/2-inch thick, but packed with close to 300 recipes -- everyday, practical dishes that will be familiar to most anyone who grew up in Hawaii.
At $14 it might seem pricey for such a modest collection, but for someone in search of an overall guide to local-style cooking, this is an efficient and compact solution -- easy to keep and use in the kitchen.
And you can trust the recipes, Nabarrete says. "Every recipe is from us or a family member, things they like to cook for their families."
One of the benefits of being an author, she says, is having people tell her they enjoyed the way a dish turned out. "The other part is having my mother's recipes in a book preserving great memories for me and my family. She passed away a year ago and would be so pleased to have her name in a cookbook."
Kathy Bereth and Stephanie Carr both wrote in search of a good okazu-style long rice recipe, which just happens to be the very first recipe in "Hawaii's Lunchbox." It's a meat-free side dish with a soy-ginger sauce.
Nabarrete says she and Hookala developed it to replicate versions sold at Kitchen Delight in Wahiawa, and other okazuya that are just memories now: Segura's in Waialua and Honda Delicatessen in Liliha.
"It took us a while to figure it out but eventually we got the taste we remembered," she said.
To order the cookbook, send a check for $14 plus $3 postage to Nabarrete at P.O. Box 700716 Kapolei 96707 or e-mail mikaminyer@aol.com. Or pick one up at Nabarrete's office, Colorado Federal Savings Bank, 949 Kamokila Blvd. No. 102, in Kapolei. Call 256-4362.
Long Rice
2 quarts water
1 teaspoon salt
3 (4-ounce) packages long rice (Nice brand preferred)
» Sauce:
1 thumb-sized piece ginger, sliced
1 tablespoon rice vinegar
1 cup soy sauce
1 cup sugar
1/2 cup water
Bring water and salt to boil in large pot. Add long rice. Remove from heat and let sit 15 minutes; drain.
Cut long rice into 4-inch pieces; set aside.
Combine sauce ingredients in saucepan. Bring to boil; lower heat and simmer 5 minutes.
Remove ginger and add long rice. Mix well. Simmer 10 minutes more, then drain excess sauce and serve. Serves 8.
Approximate nutritional analysis, per serving (includes all sauce): 270 calories, no fat or cholesterol, greater than 2,000 mg sodium, 64 g carbohydrate, 1 g fiber, 26 g sugar, 4 g protein.
Send queries along with name and phone number to: "By Request," Honolulu Star-Bulletin, 500 Ala Moana, No. 7-210, Honolulu 96813. Or send e-mail to
bshimabukuro@starbulletin.com