---
FAST FACTS HAWAII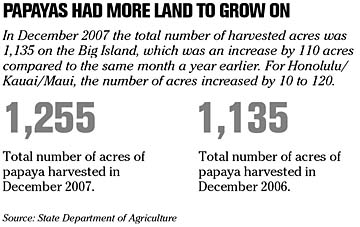 ---
HAWAII
Sun to help chill beer in Waipahu Hoku Solar Inc. announced an agreement yesterday with Paradise Beverages Inc. to install a solar-power system at its Waipahu facility.
Hoku Solar, a subsidiary of Hoku Scientific Inc., had previously installed two turnkey photovoltaic power systems for Paradise Beverages in Kailua-Kona and Lihue.
Paradise Beverages is the Hawaii distributor for major brands such as Heineken, Coors and Miller.
The three PV power systems at Paradise Beverages's Waipahu refrigerated warehouses will be able to produce 350 kilowatts of electricity.
Gannon takes top SBA award
The award-winning chef of Haliimaile General Store and Joe's Bar, Beverly Gannon, has been honored for her business skills as well. » C5
NATION
XM-Sirius radio deal approved WASHINGTON » The U.S. Justice Department approved Sirius Satellite Radio's $5 billion buyout of rival XM Satellite Radio yesterday, saying the deal was unlikely to hurt competition or consumers.
The deal was approved despite opposition from consumer groups and an intense lobbying campaign by the land-based radio industry.
The buyout received shareholder approval in November. The companies said the merger will save hundreds of millions of dollars in operating costs - savings that will ultimately benefit their customers.
"The likely evolution of technology in the future, including the expected introduction in the next several years of mobile broadband Internet devices, made it even more unlikely that the transaction would harm consumers in the longer term," the Justice Department said.
Walgreen profit grows 5 percent
CHAMPAIGN, Ill. »
Walgreen Co.
yesterday said second-quarter profits rose 5 percent with improved cost controls offsetting sluggish holiday sales.
Walgreen reported earnings of $685.9 million, or
69 cents per share, compared with $651.9 million, or
65 cents per share, a year ago.
Sales rose 11 percent to $15.39 billion, from $13.93 billion. Same-store sales gained 4.7 percent. Same-store sales, or sales at stores open at least a year, is a key indicator of retailer performance since it measures growth at existing stores.
Analysts expected profits of 67 cents per share on revenue of $15.43 billion. Walgreen has also been expanding rapidy, opening a record 290 stores during the first half of its fiscal year, including its first Hawaii stores.
Icahn wants Moto documents
CHICAGO » Billionaire investor Carl Icahn said yesterday he's seeking a court order that would force
Motorola
to turn over documents about its trademark cell-phone business and its senior executives.
"Over the past 12 months the statements and predictions of Motorola's management and the board about mobile devices business have too often proven to be wrong," Icahn said in a statement.
Motorola was withholding comment until it had a chance to review any lawsuit filed by Icahn, said spokeswoman Jennifer Erickson.
Icahn plans to use the materials as part of his proxy battle to win four seats on the Schaumburg-based company's board. Motorola prevailed in a proxy battle with Icahn a year ago.
BRIEF CASE
Electronic Arts exec leaving:
Warren Jenson, the chief financial officer of Electronic Arts Inc. since 2002, is leaving the video game publisher in the midst of its hostile buyout bid for "Grand Theft Auto" publisher Take-Two. EA did not give a reason for Jenson's departure; a spokeswoman said yesterday it was a "mutual decision" between him and Chief Executive John Riccitiello. "It's pretty clear that he's building his own team," said Wedbush Morgan analyst Michael Pachter.
---
BUSINESS PULSE