2008 STAR-BULLETIN ALL-STATE GIRLS SOCCER TEAM
She's a keeper
Kamehameha senior Kanani Taaca garners Player of the Year honors
Be a shot preventer, not a shot stopper.
That's Kanani Taaca's philosophy, and she's sticking to it.
Through pinpoint communication with her Kamehameha defense, the Warrior senior goalkeeper shut out all three opponents in the New City Nissan/HHSAA Girls Soccer Championships in helping her team collect its third straight state title.
Taaca, the two-time state tournament most outstanding player, garnered enough respect to be named the Star-Bulletin's 2007-08 Player of the Year for her effectiveness and leadership. She edged Kalani's offensive powerhouse, junior Tani Costa, in the coaches' balloting.
The keeper follows her good friend, Mari Punzal -- last year's player of the year out of Kamehameha -- to play for the University of Hawaii. Coach Michele Nagamine, honored as coach of the year for the third straight time, thinks the Rainbow Wahine are getting quite a find.
"The best thing I can think to say to sum (Kanani) up would be, 'game-changer,' " Nagamine said. "People ask me a lot, 'Hey, is this girl a game-changer?' It's very few and far between where you can actually answer, 'Yes.' "
KANANI TAACA, KAMEHAMEHA
PLAYER OF THE YEAR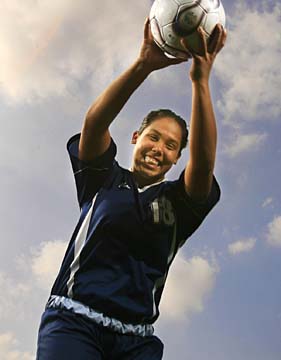 Even when the action was on the far side of the field -- and for the 13-2 Warriors, that happened quite a bit -- Taaca kept herself in the game by shouting out opponents' tendencies and tactics to her defense.
Since being a part-time starter her sophomore season, there's been plenty of time to bond. And when she and her fullbacks were on the same page, it almost always translated into positive results. Of Kamehameha's 10 wins in Interscholastic League of Honolulu play, nine were shutouts. The Warriors yielded only seven goals all season.
"Leading up this whole season, we've grown as a unit, and we learned how to work off each other," Taaca said. "And we know what each and every one of us can provide for the team, and what they lack. I think our team as a whole is so close, and we bond so much and have our whole sisterhood thing."
Nagamine has known Taaca since she played club ball for Nagamine at 10 years old and admires her commitment more than anything. She must get up early in the morning in Waianae each school day to make the trek to Kamehameha, and usually returns home late at night. But the coach also speaks of her ability to draw teammates together with her buoyant personality.
"She talks the talk, but she can walk the walk, and she'll yell at them to stay organized," Nagamine said. "When she gets tested, she always comes up big."
FIRST TEAM
| | | | |
| --- | --- | --- | --- |
| Pos. | Player | School | Class |
| AP | Sanoe Souza | Kamehameha | Sr. |
| F | Erin Rementer | Punahou | Sr. |
| F | Meghan Fuller | Pearl City | Sr. |
| F | Courtney Botelho | Kamehameha | So. |
| F | Tani Costa | Kalani | Jr. |
| MF | Brittney Sanford | Punahou | Sr. |
| MF | Amber Fuller | Kamehameha | Jr. |
| MF | Chelsey Goo | Mililani | Jr. |
| D | Tarra Gabriel | Kamehameha | So. |
| D | Jayann Gabrio | Punahou | Jr. |
| D | Lauren Vieira | Kamehameha-Hawaii | Sr. |
| GK | Kanani Taaca | Kamehameha | Sr. |
Coach of the year: Michele Nagamine, Kamehameha