Isle pages
"Lauka'ie'ie,"
by Robin Yoko Racoma ($19.95)
"No ka 'Elepaio Kolohe,"
as retold by Malia Kruger, with illustrations by Eve Furchgott ($14.95)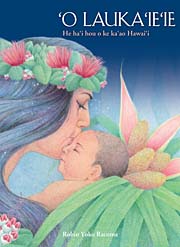 Both from Kamehameha Publishing, available online at www.kamehamehapublishing.org and in bookstores by the end of the month.
These beautifully illustrated children's books are aimed at families with an interest in Hawaiian culture and language.
"No ka 'Elepaio Kolohe" is the first in Kamehameha Publishing's Ku'una Series, a partnership with Hale Kuamo'o Hawaiian Language Center in Hilo. It is available in Hawaiian or in an edition that combines Hawaiian and English translations. It tells of an 'elepaio bird and the trouble he gets into through his curiosity.
"Lauka'ie'ie" tells of a childless couple blessed with a baby delivered by way of an ohia tree.
Both books will be available this week online, and in bookstores by the end of this month.