Incubus grows
With an eco-conscious, altruistic philosophy, the band returns to the islands on the tail end of an Asian-Pacific tour
Incubus has certainly come a long way since opening for bands such as 311 and System of a Down years ago. The group no longer resembles the dread-locked, baggy-pants-and-chain-wallet-wearing bunch of those days. The band's sound also has transcended the psychedelic-funk of the 1995 debut, "Fungus Amongus."
INCUBUS
With opening band Silversun Pickups
In concert: 6 p.m. Friday
Place: Waikiki Shell
Tickets: $40 lawn; other seats sold out
Call: (877) 750-4400 or visit www.ticketmaster.com
The five -- Brandon Boyd on vocals, Jose Pasillas on drums, Ben Kenney on bass guitar, Mike Einziger on guitar and DJ Kilmore on turntables, mellotron, piano and organ (Kilmore could probably turn your mom's old dust pan into some sort of musical sound) -- have been making music together since their teens.
They've built a résumé of more than 15 singles, five full-length albums, four DVDs and multiple worldwide tours for sold-out crowds on nearly every continent.
Incubus, touring on behalf of their latest effort, "Light Grenades," reaches Hawaii on Friday, after dates in Australia, Manila, Beijing, Shanghai and Hong Kong. It's been nearly a decade since the band was last here.
"It has been kind of difficult to book a show in Hawaii," Kenney said in a chat via Blackberry last month. "But we have been trying for the past couple of years, and all the cards finally fell into place and we are very much looking forward to it."
"Light Grenades" hit No. 1 when it was released in December 2006. It has spawned hits such as "Anna-Molly," "Oil and Water" and "Dig."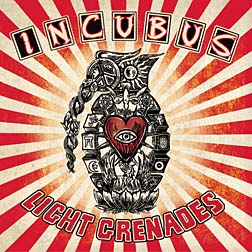 ---
Touring the world requires spending gobs of money. Basic necessities such as airfare, fuel and Corona can get expensive. But Incubus is also showing the world how to decrease its carbon footprint.
The band accepted the Missions in Music Award at the E! Entertainment Awards last November for their efforts. They run their tour buses on biodiesel fuel, use strictly organic materials and offer only organic merchandise (shirts, posters, stickers, wrist bands).
"I honestly think that down the road, there is not going to be a choice," Kenney said. "I think the situation with oil in the world is only going to worsen."
Incubus has its own charity, the nonprofit Make Yourself Foundation, which helps other foundations in need around the world. More than $1 million has been raised since its inception in 2003. The most recent donation: $10,000 to www.stopglobalwarming.com. After the tsunami in Indonesia, the band gave nearly $100,000 to help victims.
"We're always trying to figure out ways to raise money for our favorite charities," Kenney said. "We receive a lot of assistance from Jake Versluis, the director of the foundation. He is very good at channeling our energy into the production of things."
Kenney joked, "We are much better at making music!"
Seeing the world with Incubus, Kenney is grateful for being able to experience a wide range of cultures, all while making music. "I don't think anybody could be the same after being to all the different places we have been to."
He'll continue to broaden his horizons with the visit to Hawaii. Incubus shows are always intense, highly energetic and provoking. Kenney assures fans that there will be a strong core of hit singles in the set-list, most likely to include one of his favorites to play on stage, "Wish You Were Here."
"We might have to write a sequel to that song while we are in Hawaii and dedicate it to the fans who 'are here' with us."