| | |
| --- | --- |
| | Island Mele |
---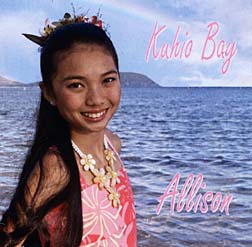 "Kuhio Bay"
Allison (Kina)
Fourteen-year old Allison Chu takes a noteworthy step forward with the release of her first Hawaiian album. Rather than cut corners and rely on synth tracks, she teamed up with guitarists Albert Ka'ai and Art Kalahiki; Ka'ai plays slack key, and both men play ukulele. Add producer Pierre Grill, who occasionally sits in on piano and keyboards, and a steel guitarist identified only as "Uncle Kimo," and Chu has solid instrumental support. Many young singers put out albums that are essentially artists' demos; Chu and her producers offer more than that here.
They also showcase her vocal capabilities in convincing style. On some songs she sings solo, on others she accompanies herself with additional vocal tracks. Multitracking some of the vocals works well and makes the arrangements more interesting.
Most of the songs are Hawaiian and hapa-haole standards -- "Waikiki," "Wahine 'Ilikea" and "Puamana," to name three. Shirley Temple was doing hapa-haole music in the '30s, so Chu is in good company.
"Wailele O 'Akaka (Akaka Falls)" stands out for the simplicity of the arrangement, the feeling of tranquility created by the instrumental bridge, and Chu's delicate yet assured voice. She captures the spiritual nuances while resisting the temptation to use the melody as a platform for showing off her range as a vocalist.
"Over the Rainbow" and "Wonderful World" add a pair of pop standards to the collection.
Chu may seem a bit young at 14 to be singing about "your sweet laughter, mornings after," but she explains in the liner notes that she recorded "I'll Remember You" as a tribute to Don Ho, so we'll give her a pass on the issue of "age appropriate" material.
---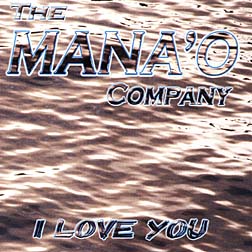 "I Love You"
Mana'o Company (Dan-Pa Productions)
The Mana'o Company combines Jawaiian rhythms and smooth old-school R&B harmonies perfectly in this catchy radio-perfect number. The song has been available for a while as a download, but the group and its record label are confident enough about the tune that it is now available on CD.
A man of the "strong but silent" type can let vocalists Danny Kennedy, Kaulana Pakele and Frank Sua speak for him by playing the song for his loved one. The romantic lyrics speak of love and devotion forevermore, and the trio delivers the message in convincing style.
Kennedy, who plays bass, guitar and keyboards, is joined by Salaam Tillman (drums and percussion), Jack Ofoia (lead guitar) and a three-man horn section on an arrangement that feels equally right for skanking or slow dancing.
Love songs never go out of fashion, and Kennedy and Pakele share credit as the composers of a love song that should be one of the local hits of the year.
---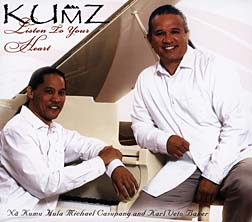 "Listen to Your Heart"
KUmZ (Kuakoko Foundation)
Anyone who enjoys the music of the Brothers Cazimero is certain to enjoy the latest by album by KUmZ -- Michael Casupang and Karl Veto Baker, and their Halau I Ka Wekiu. Casupang and Baker are longtime students and protégés of kumu hula Robert Cazimero, and every song is instantly reminiscent of the Brothers, and also Robert's work as a solo vocalist backed by the men of his Halau Na Kamalei.
The group's name, KUmZ, and its hip-hop-style spelling is another link to their kumu's musical ohana. There are people who refer to the Brothers Cazimero as "The Caz," so why not refer to two kumu hula as "kumz?" Why not indeed!
But don't be put off by the slanginess. All the songs are originals, and almost all are in Hawaiian. Casupang and Baker also live up to their responsibilities as teachers and conservators by including the Hawaiian lyrics and English translations.
"You're Gonna Miss Me," one of the hapa-haole songs, stands out as a simple yet touching farewell.
John Berger
, who has covered the local entertainment scene since 1972, writes reviews of recordings produced by Hawaii artists. See the Star-Bulletin's Today section on Fridays for the latest reviews. Reach John Berger at
jberger@starbulletin.com
.