---
FAST FACTS HAWAII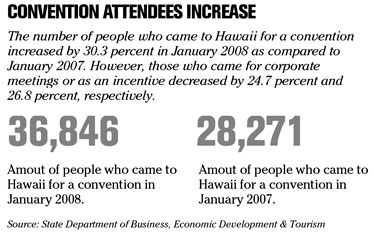 ---
Hoku thinking expansion
Hoku Scientific Inc.
said yesterday it has entered a contract for the option to purchase additional reactors for its planned Idaho polysilicon plant.
The Kapolei-based alternative-energy technology developer said subsidiary Hoku Materials Inc. has locked in pricing and delivery terms with supplier GEC Graeber Engineering Consultants on reactors to produce an additional 500 metric tons of polysilicon a year.
Hoku had an existing contract with Graeber for reactors to produce 2,000 metric tons of polysilicon annually. The new agreement allows Hoku to expand its production to buy 8,000 metric tons of polysilicon each year.
The plant will have a 2,500-metric-ton annual capacity when it begins operation in 2009, and Hoku has said it plans expansion to 3,500 metric tons a year in 2010.
Oils of Aloha has new president
Oils of Aloha
, a Waialua-based processor of kukui and macadamia oils, said yesterday it has promoted Matthew Papania to president.
In the position, Papania will oversee daily operations, facilities and human resources.
Papania joined the company as production manager in 1991 after studying mechanical engineering at Mississippi State University.
The company has operated on the North Shore for 20 years.
BRIEF CASE
CUTTING BACK:
Nissan is cutting work schedules at two U.S. assembly plants from five eight-hour days to four nine-hour days. The change is intended to balance inventory levels. Nissan's U.S. sales dropped 2.9 percent in February compared to a year ago. The four-day schedules at Smyrna, Tenn., and Canton, Miss., are planned for the next few months and will be re-evaluated as market conditions change.
STILL TASTY: General Mills Inc. said yesterday that cost cutting helped its profit climb 61 percent in the third quarter as strong demand and higher prices led to a 12 percent rise in sales. The earnings for the maker of Cheerios and Wheaties cereals, Progresso soups and Yoplait yogurt were above Wall Street expectations. General Mills earned $430.1 million on sales of $3.41 billion.
NEW HIRES/PROMOTIONS
» Hyatt Hotels & Resorts has named
David Lewin
as general manager for the Hyatt Regency Waikiki Resort & Spa. His career with Hyatt spans more than 20 years, having served as general manager for Hyatt Regency San Francisco Airport and Hyatt Westlake Plaza; and director of sales and marketing at Hyatt Regency San Francisco.
» Finance Factors has announced the following new hires:
Kelly Sakai as senior loan officer at the Kapiolani branch. Her eight years of financial industry experience include sales associate at New Century Mortgage Corp. and loan officer at Infinity Mortgage.
Lisa Dela Cruz Lee as senior loan officer at the Kahala branch. She served as business development manager for IndyMac and has more than 19 years experience in Hawaii's financial services industry.
» ResortQuest Hawaii has announced the following new appointments:
David Schneider as general manager of Aston Maui Lu from rooms division manager at ResortQuest Waikoloa Colony Villas. His experience includes senior leadership roles in a property management company in San Diego and with Holiday Inn in Padre Island and Corpus Christi, Texas.
Sandi Kato-Klutke as general manager of ResortQuest Islander on the Beach from general manager of the ResortQuest at Poipu Kai. Her 35 years experience in the hospitality industry include general manager for Aston and Outrigger properties. She also serves as a planning commissioner for the County of Kauai.
Dawn Kane as vice president of ResortQuest Real Estate of Hawaii from general manager of ResortQuest Mahana at Kaanapali. Her 28 years experience include general manager of Whalers Realty Management Co., assistant general manager at Kamaole Sands and reservations manager at Sands of Kahana.
BOARD ELECTIONS
» Pacific Islanders in Communications has elected
Jose Munoz
to its board of directors. He is a 24-year educator in Pacific Island history, people and culture, and is currently an assistant professor at Guam Community College, where he also serves as department chair of criminal justice and social sciences and as president elect of the Faculty Senate. The national non-profit corporation supports the development and advancement of Pacific Island media content and talent that contributes to the understanding of Pacific Island history, culture and contemporary challenges.
» The Pacific Insulation Contractors Association has elected its officers and directors for 2008: Garrett Acidera, president; Pat Ayers, vice president; Gary Silva, secretary and treasurer; and Tim Lyons, executive director.
---
BUSINESS PULSE