---
FAST FACTS HAWAII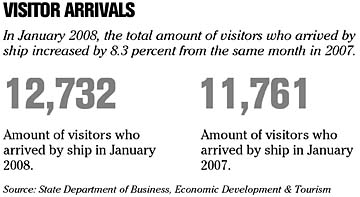 ---
NATION
Visa's IPO raises $18 billion SAN FRANCISCO » Visa Inc. raised $17.9 billion late yesterday to complete the largest initial public offering in U.S. history and help prop up the wobbly financial services industry.
The world's largest processor of credit and debit cards sold 406 million shares at $44 apiece to easily eclipse the previous U.S. record IPO of $10.6 billion set by AT&T Wireless eight years ago.
The IPO price topped the range of $37 to $42 per share that Visa set three weeks ago, just before its executives began meeting with institutional investors and analysts to drum up interest.
Visa shares, trading on under the "V" ticker symbol, are scheduled to begin trading today on the New York Stock Exchange. The San Francisco-based company will debut with a market value of about $36 billion.
$20B bid for cellphone spectrum
WASHINGTON » The most lucrative airwaves sale in U.S. history ended yesterday with bids totaling $19.6 billion, underscoring demand from
AT&T Inc.
and
Verizon Wireless
for spectrum that will bolster Internet services on mobile phones.
Revenue from the auction came in near the top of analysts' projections of as much as $20 billion. The Federal Communications Commission hasn't decided when it will disclose the winners of the 1,099 licenses, Chairman Kevin Martin said yesterday.
AT&T, Verizon Wireless, Google Inc. and 211 others battled for airwaves that will speed up Internet access on phones, easing music and video downloads. The airwaves will become available when television broadcasters switch to digital signals next February. The government had expected the auction to raise $10 billion to $15 billion.
Yahoo forecasts revenue jump
SAN FRANCISCO »
Yahoo Inc.
has released a rosy outlook for the next two years, hoping to give investors a better understanding why the slumping Internet pioneer isn't willing to sell to
Microsoft Corp.
for less than $45 billion.
Analysts interpreted the company's unscheduled disclosure yesterday as a sign that Yahoo's attempts to find an alternative deal to Microsoft's 6 1/2 -week-old offer aren't bearing fruit. The Sunnyvale-based company has been exploring alliances with Google Inc., News Corp.'s MySpace.com and Time Warner Inc.'s AOL.
Yahoo is under pressure to justify its board's decision last month to rebuff a takeover offer that was 62 percent higher than the company's market value when the courtship began.
The forecasts predict Yahoo's revenue -- minus advertising commissions -- will climb more than 70 percent during the next three years to reach $8.8 billion in 2010.
Deadly charm
A bracelet that was provided as a free gift by Reebok International Ltd. with purchases contained toxic levels of lead and resulted in the death of a 4-year-old Minneapolis boy, who swallowed the heart-shaped pendant in March 2006. Reebok has agreed to pay a record $1 million fine for importing and distributing the bracelets.
BRIEF CASE
RUDDERLESS
: Lawmakers today voted down the nomination of former Finance Ministry bureaucrat Koji Tanami as Bank of Japan chief, leaving that post vacant for the first time since World War II. The ruling coalition yesterday proposed Tanami, 68, now governor of Japan Bank for International Cooperation, to head the central bank. The opposition, which controls the upper house of parliament, then announced it would veto him.
PHOTOSHOP THIS: Demand for design tools like Photoshop, Illustrator and Dreamweaver and for its Acrobat publishing tool pushed Adobe Systems Inc.'s profit up 52 percent in the first quarter, but the software maker still forecast just 13 percent revenue growth for the year. Adobe posted a profit of $219.4 million on the quarter as revenue jumped 37 percent to $890.4 million.
BUSTED: California prosecutors shut down seven mortgage companies yesterday in an ongoing campaign against predatory lenders, accusing real estate agent Eric Pony, his mother and sister of tricking struggling homeowners into refinancing deals that caused many to lose their homes.
---
[ TAKING NOTICE ]
NEW HIRES/PROMOTIONS
» Group 70 International has promoted
Katie MacNeil
to principal. She will oversee the firm's projects and the expansion of its sustainable development division. She joined the firm in 2000 and has served as project manager for notable projects including the Salvation Army Kroc Community and Recreation Center and Kamehameha Schools campuses.
» Outrigger Condominium Collection has promoted Bill Rees to general manager of the Outrigger Maui Eldorado from assistant resort manager of Outrigger Royal Kahana. He will oversee all departments and serve as Outrigger's liaison to the property's Association of Apartment Owners. His 10 years with the company include reservation sales supervisor at Outrigger's Worldwide Contact Center in Denver and front office manager at Outrigger Maui Eldorado.
» Hawaiiana Management Co. has announced the following new management executives:
• Lillian McCarthy was property manager at Certified Management for eight years, and serves the Community Associations Institute Hawaii chapter as editor of their newsletter.
• Roy Shimonishi was property manager and rental agent at Hawaii First for three years, and owner and manager of Hungry Lion Restaurant for 25 years.
• Gene Peles was general manager of Evergreen International Airlines for six years and is a retired U.S. Army master sergeant with 24 years of service.
» Matson Navigation Co. has announced the following new appointments:
• Vic Angoco as vice president, Pacific from country manager, Guam. He replaces Gary North as head of the company's Pacific operations and will also serve as executive vice president of Matson Terminals. He first joined Matson in 1996 as manager of operations for Guam.
• Len Isotoff will succeed Angoco as general manager, Guam and Micronesia. His previous jobs in the company include manager of container operations, manager of sales for the Pacific Northwest, manager of sales and customer service for Guam.
» Kona Brewing Co. has promoted Steve Cole to director of sales, Hawaii. He will oversee the company's sales and marketing initiatives within the state. He joined the company in 2004 as market manager. His 32 years in management, sales and marketing experience include 19 years in the beverage service industry. He has also served in the U.S. Navy on active and reserve duty for six years.
» Kapalua Resort has promoted Juan Gutierrez to director of agronomy from senior golf course superintendent. He will oversee management, maintenance, renovation and quality of play for The Plantation Course and The Bay Course, as well as the Kapalua Gold Academy. His 12 years experience in golf course maintenance and tournament operations include golf course superintendent for Doral Golf Resort and Spa and Ocean Reef Club in Florida.
---
BUSINESS PULSE