Surfers fight ferry pier
WAILUKU » A new Maui surfing group said yesterday it is opposed to any Hawaii Superferry development in Kahului Harbor that would eliminate surfing sites.
Mike Cummings, spokesman for Hui He'e Nalu O Maui, said the newly organized group representing 352 members felt it was important for the state to look at "quality of life" issues in evaluating the Superferry's operation.
"There's a lot of people who feel very galvanized about their opinion," Cummings said.
Some 16 people attended the day meeting, and about 10 people went to the meeting last night at the Baldwin High School auditorium.
Maui members of the Surfrider Foundation already have criticized the proposal to develop a berthing area that would affect surfing sites within the harbor.
The public meeting was the first in a series held by state transportation officials to gather public opinion before developing a draft environmental impact statement about large-capacity ferry operations.
The environmental study mandated under Act 2 of a special session last year of the state Legislature is expected to cost taxpayers between $1.25 million and $1.5 million, said Michael Formby, deputy transportation director for state harbors.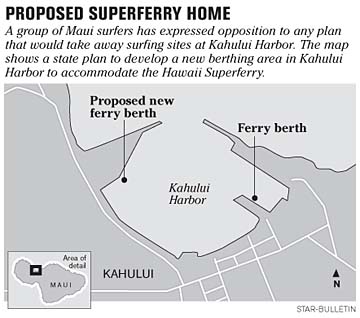 ---
Formby said the law requires state transportation officials to expand the normal scope of harbor studies to encompass the planned Superferry routes connecting Kahului Harbor, Honolulu Harbor, the Big Island's Kawaihae Harbor and Kauai's Nawiliwili Harbor.
He said the draft study is scheduled to be available for public review by October and that the public will then have 45 days to comment on it. A final environmental impact statement is scheduled to be completed by May 2009.
Formby said state transportation officials have decided to move forward with a plan that maintains the outline of the harbor's west jetty but adds a finger within the harbor. He said wave modeling studies will be conducted to determine the impact of the changes.
A number of Maui residents criticized the process of review that, under Act 2, allows the Superferry to operate while the state conducts the environmental study.
Karen Chun, representing Save Kahului Harbor, said the public may suggest alternatives in the environmental impact statement study, but the one alternative that is effectively not an option is to halt the Superferry's operation.
"This EIS is a mockery," Chun said.
Chun said her group had serious questions about how the state "got into the mess," and criticized Gov. Linda Lingle for citing attorney-client privilege in declining to cooperate with an investigation.
"If she's done something so wrong that she has to hide behind privilege, then she should step down," Chun said.
Irene Bowie, whose Maui Tomorrow group is challenging Act 2 in the Hawaii Intermediate Court of Appeals, said the state is preparing a study that has no relationship to Hawaii's environmental laws.