Kalaeloa owner has own plans
STORY SUMMARY »
The U.S. Navy is poised to transfer 499 acres of land at its former Barber Point Naval Air Station -- land that had been sought by the state agency charged with redeveloping the area -- to a private developer with its own ideas on what to do with the property.
The transfer to Hunt Development Group means that a longtime master plan adopted by the state agency -- the Hawaii Community Development Authority -- may now hold little sway.
Federal lands are not subject to the HCDA's oversight, and while Hunt has expressed its interest in working with the state agency, it is drawing up a master plan of its own.
---
FULL STORY »
With the expected transfer of 499 acres of U.S. Navy land in Kalaeloa to Ford Island Properties LLC, a master plan drafted by a state agency charged with redeveloping the area may have little influence over its future.
The Kalaeloa master plan, adopted in 2006 by the Hawaii Community Development Authority, took years to put together.
But Ford Island Properties -- a partnership between Hunt Development Co. and Fluor Federal Services -- is poised to take over fee simple ownership of the lands without being held to that master plan.
Ford Island Properties agreed to take the Kalaeloa lands, formerly Barber's Point Naval Air Station (appraised at $75 million) in exchange for its leasehold interest in 40 acres on Ford Island (appraised at $61 million), along with $16.6 million in improvements there, and 4.9 acres at Iroquois Point.
The deal is expected to close by July.
Some members of the HCDA board have expressed concern about the agency's diminishing role in Kalaeloa.
"It's not what we desired to happen," said Ted Liu, director of the Department of Business, Economic Development and Tourism. "For jobs, and for affordable housing, that's the last piece of significant, urban land to be developed."
The state has all along expressed its interest in taking over the lands, said Liu.
Gov. Linda Lingle had serious discussions with the Navy about her vision for the area, said Liu, and its importance for the economic development of Leeward Oahu.
The state was talking to Hunt about a partnership in developing Kalaeloa, he said, until the Navy made its own deal with Hunt.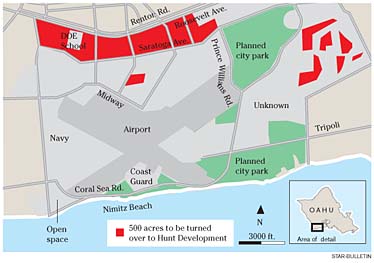 ---
HCDA oversees development of Kakaako and took on Kalaeloa in 2002, when the state Legislature designated it as a community development district. The state agency establishes zoning and land use rules for both districts, but its rules don't apply to federal entities.
HCDA's Kalaeloa Master Plan delineates 3 million square feet of industrial, commercial, retail and office space, along with 6,350 residential units (a third of which would be affordable), public schools and alternative energy development.
HCDA hired Belt Collins Hawaii in 2005 to prepare the master plan, using its strategic plan. The contract required conducting public workshops.
Anthony Ching, executive director of HCDA, said it is pursuing a memorandum of understanding with Hunt, both at a voluntary and congressional level.
He said Hunt has expressed interest in working with HCDA, and Steve Colon, president of Hunt, said it plans to work with the agency.
Hunt has, however, hired design firm EDAW to work on a new master plan that he hopes will be completed by the end of the year.
Colon said HCDA's master plan is a few years old, and was completed before developers built thousands of new homes in West Oahu. Rather than build more homes, Hunt will likely focus on commercial uses to create jobs.
"We have the ability to update that master plan if we think there's a better use," said Colon. "At this very early point, we're trying to dialogue with HCDA, with the hopes that our master plan will be in some kind of alignment with the plan that they envision."
But Hunt is not bound to HCDA's master plan unless a congressionally mandated MOU calls for it.
U.S. Rep. Neil Abercrombie says he is working on one.
"Kalaeloa will be a vibrant part of the future -- for the people of Kapolei and all of Oahu," said Abercrombie, a senior member of the House Armed Services Committee, in a written statement. "Efforts to make all of this a reality will require the community -- including the federal and state governments and developers -- to work in concert toward that goal. Toward that end, I want to produce a memorandum of understanding that will help the Navy and Hunt Development Group to be a part of the vision we share for West Oahu."
A committee of community members has met regularly to talk about improving Kalaeloa, including how to deal with the homeless at its beaches and setting some ground safety rules.
Maeda Timson, a Kalaeloa representative on HCDA's board, says she doesn't know what the point of the committee is if Hunt isn't required to comply.
"It's very upsetting," said Timson. "Hunt really doesn't need to be responsible to us. No one needs to be responsible to our community, yet they will be in our community."
Last year, a bill in the state Legislature would have granted HCDA $250 million in bonds over 20 years to buy the 499 acres, but the measure never made it to the floor.
The Navy also anticipated stationing an aircraft carrier at Kalaeloa, but opted to put it in San Diego instead. Hunt at one point had original plans to build market-rate homes and condos at Ford Island, but that never came to fruition.
Most of the lands at the former Naval Air Station at Barbers Point are vacant, although it is home to an elementary school, an airport, homeless shelters and rental housing as well as the U.S. Coast Guard and state National Guard.
Many former Navy base buildings remain empty, subject to vandalism, while area fields lie fallow, and sports facilities remain unused.