---
FAST FACTS HAWAII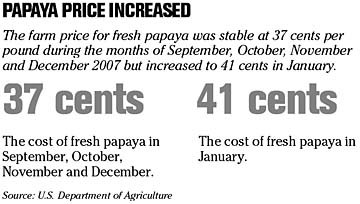 ---
HAWAII
Deloitte donates $250K to UH Deloitte & Touche LLP has donated $250,000 to establish a new endowment fund at the University of Hawaii's Shidler College of Business.
The business school matched the donation one-to-one to create the $500,000 Lloyd Fujie/Deloitte Foundation Distinguished Accounting Professorship Endowment Fund to help recruit and retain accounting faculty.
The endowed professorship was established in memory of Fujie, a graduate of the Shidler College of Business and former managing partner of Deloitte & Touche who died in December 2006.
Satellite provider entering isles
Spacenet Inc.
, a satellite networking services provider, said yesterday it is expanding broadband and digital voice services into Hawaii and Alaska starting next month.
The McLean, Va.-based company said yesterday it will offer its Connexstar service, allowing high-speed two-way satellite communications in every state, U.S. territories and the Caribbean.
The company will offer voice, video, and data communications services to business and government clients as well as providing digital phone service with local area codes.
FHB can open accounts online
First Hawaiian Bank
yesterday launched a program that allows prospective customers to open checking accounts online from home.
The secure program, called FHB Direct, is free and available 24 hours a day, seven days a week and can be done in minutes, the bank said.
The program allows customers to transfer and monitor loan and deposit balances; see their ATM and credit card transactions; and view and print copies of their canceled checks and checking account statements. The bank does charge a fee for bill payment service.
NATION
Iomega in talks over EMC bid BOSTON » Iomega Corp., a data storage company best known for the Zip drive, said yesterday it considers a revised $205.5 million takeover offer from EMC Corp. to be superior to a proposed all-stock transaction with a stockholder.
San Diego-based Iomega said EMC's revision to its earlier, unsolicited offer would increase the offering price for Iomega's 54.8 million outstanding shares to as high as $3.75 per share. An offer from EMC that Iomega disclosed a week ago proposed a price of $3.25 per share, or about $178.1 million.
While EMC's offer is nonbinding, Iomega said its board "has determined that the revised acquisition proposal from EMC would reasonably constitute a superior proposal" to an agreement reached in December with other parties.
Block to sell mortgage unit
KANSAS CITY, Mo. »
H&R Block Inc.
said yesterday it has signed an agreement to sell its troubled mortgage servicing business for $1.1. billion to billionaire investor Wilbur Ross.
Option One Mortgage Corp., which has been rocked by the nationwide mortgage crisis, currently services about $53 billion of subprime mortgages, ranking it the fourth-largest in the nation. Kansas City-based H&R Block shut down Option One's mortgage originations after an earlier agreement to sell the division to Cerberus Capital Management fell through.
BRIEF CASE
TRY AGAIN:
A federal appeals court ordered a new trial today for former Qwest CEO Joe Nacchio, saying the trial judge wrongly excluded expert testimony important to Nacchio's defense in his insider trading case. Nacchio was convicted in April on 19 counts involving the sale of $52 million worth of Qwest stock in 2001.
WIDGET ADS: Television stations owned by CBS Corp. are launching an online advertising initiative with local bloggers and social media sites, the company announced yesterday. The ad network will involve CBS-owned TV stations generating online modules called "widgets" which can be easily added to Web sites.
DEADLOCK 2: Japanese Prime Minister Yasuo Fukuda nominated former Finance Ministry official Koji Tanami as central bank governor, setting a collision course with the opposition who rejected his first choice for being too close to the government. The Democratic Party of Japan said it is "disappointed."
---
BUSINESS PULSE