Dancing with waves
With hardly a wake behind him, Japanese solo sailor Ken-ichi Horie set sail, so to speak, on a two-month voyage yesterday from Honolulu to Japan.
If all goes well, Horie, 69, will capture a Guinness world record for the longest voyage (4,347 miles) in a wave-powered boat.
At the center of Horie's adventure is the Suntory Mermaid II, a 3-ton, 30-foot catamaran made of recycled aluminum. With a top speed of just under 6 mph, the vessel is expected to reach Japan in late May.
Tokai University professor Yutaka Terao, who designed the Suntory's wave-powered technology, called it "magic power."
"She can dance with waves," he said yesterday at a departure ceremony at Hawaii Yacht Club.
The Suntory also has solar-power panels to run Horie's radio and refrigerator.
Denyse Ray, an Aina Haina resident and chairwoman of the Hawaii Yacht Club host committee, lauded the voyage as an international initiative to promote sustainable energy.
"It's important that we embrace the world as it tries to do things, especially from the green standpoint," she said.
At the departure ceremony, Horie thanked the dozens who gathered at the Hawaii Yacht Club and drank a Suntory premium malt beer with the crowd.
Bedecked with leis, he appeared calm and smiled as bystanders wished him well or sought autographs.
Patrick Kirrane, San Francisco Yacht Club senior staff commodore, recalled meeting Horie in 1962 when he arrived in San Francisco without any passport after a solo voyage from Japan aboard a 19-foot boat.
"That was quite a deal," Kirrane said. "He was so well appreciated and liked."
Since that first voyage, Horie has made 10 successful voyages, including a nonstop solo voyage around the world and two that set world records.
After the ceremony, he powered the Suntory out of the Ala Wai Harbor channel with a 25-horsepower outboard, then cut the engine and turned the Suntory to the right.
Eight boats followed, circling him and cheering.
Junji Nemoto, 58, of Kaimuki, aboard one of boats, said Horie had inspired him a second time.
In 1962 he was a 14-year-old schoolboy in Japan when Horie first sailed across the Pacific to California.
That trip gave Nemoto the dream of sailing around the world. But nearing his 60s, Nemoto thought it might too late.
"I almost gave up my dream," he said, "but today I decided to go."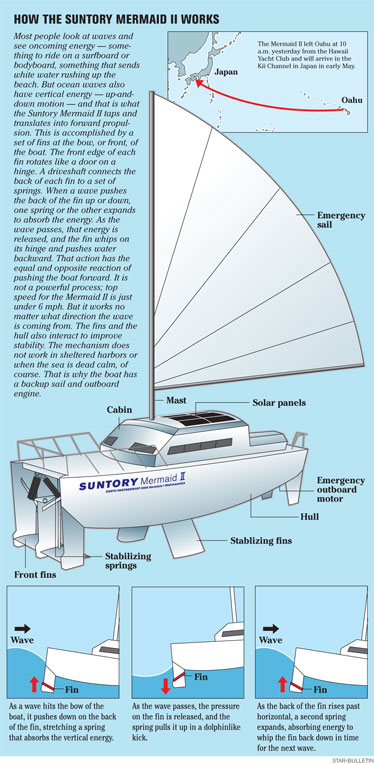 [ click image to enlarge ]