Getting to the point
A juror revisits a famous murder case
"Who Named the Knife: A Book of Murder and Memory," by Linda Spalding (Pantheon Books, 2007, hardcover, $24.95)
Linda Spalding's new book -- half novel, half personal memoir -- is a kind of latter-day "Scarlet Letter." Like Hawthorne, Spalding comes upon a forgotten manuscript years after the event, though in this case it's her own notes, dating back to her 20s when she was alternate juror in a celebrated murder case. Spalding's analysis of the trial and its aftermath recovers not only her own youthful innocence, but the memory of a forgotten woman, Maryann Acker, still languishing in a California jail.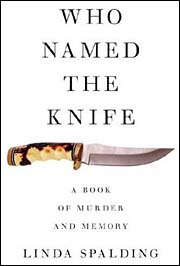 Spalding does not acquit the guilty, any more than Hawthorne exonerates Hester Prynne, though both writers find unacknowledged value in a wasted life. There's no doubt that Acker was present at the killing of Lawrence Hasker around midnight in June 1978 at Hanauma Bay. He was shot twice. The question was and still is, Who pulled the trigger, Maryann or her husband, William?
The facts are that he turned state's evidence, testified against his wife and more or less walked free. She went to jail, where she remains, despite repeated parole hearings. Like Hawthorne, Spalding suggests that William, her Dimmesdale-cum-Chillingworth, was the criminal who really dunit and left his castoff woman to pay the price. Unfortunately -- for in the end this is a true story and not a heavy-handed allegory -- there are no sweet-faced children to redeem Maryann's years of suffering.
Decades later, after rediscovering the diary she kept during the trial, Spalding contacted Maryann Acker. One gets the sense that she was looking for a book to write and this was an avenue to be pursued. They became pen pals. Phone calls and visits followed, and it's clear that Acker hoped her literate and well-connected new acquaintance would help get the case reviewed. It was but her sentence went unchanged.
Spalding's narrative thus concludes with a strong sense of bathos, like the misstep one sometimes takes at the bottom of a flight of stairs. A murderer, or accomplice to a murder, got a longer sentence than perhaps others have received, while the accomplice, or the murderer himself, got off more or less scot free. There have been worse miscarriages of justice; nor is it clear that justice was not served in this matter.
The really disturbing part of "Who Named the Knife" is the way Spalding intrudes herself, exemplified by the book's tricksy title, a question without a question mark. The Ackers carried a knife called "Justice," so named by William but represented in the text as the overarching query compromising everything. Maryann's story becomes the hook on which Spalding hangs many of her own often unhappy memories of her father, mother, childhood, friendships and life -- her own sense of justice (and its negative).
Spalding is a good writer, so these sections are never dull, just irritating. Unfortunately, she is more interested in herself than in her nominal subject, a fatal narrative mistake. "Who Named the Knife" thus ends with a long catalog of all the fun and not-so-fun things she and her husband (the novelist Michael Ondaatje) have done while Maryann Acker rots in jail.
Recollections of this sort feel tacked on, uncomfortably massaged into place. Adding the word "memory" to the book's subtitle doesn't help.
---
Michael Egan is executive editor at Trade Publishing Co. and scholar-in-residence at Brigham Young University-Hawaii.