---
FAST FACTS HAWAII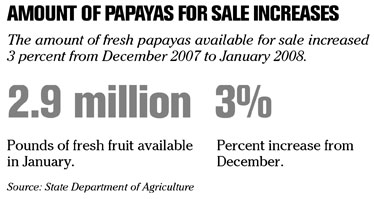 ---
3rd shipper increases fuel fee
Pasha Hawaii Transport Lines
, which transports vehicles between Hawaii and San Diego, said yesterday it is increasing its fuel surcharge by 2.25 percentage points to 31.25 percent on April 7.
The move by Pasha comes in response to increases from Matson Navigation Co. and Horizon Lines Inc. over the past week in which those two ocean shippers each boosted their fuel surcharge by 2.25 percentage points to 33.75 percent.
All three shippers now will charge $1,072 for shipping a vehicle between Hawaii and the mainland.
BRIEF CASE
ATTORNEYS PLEAD:
Powerful plaintiffs attorney Richard "Dickie" Scruggs and a co-defendant pleaded guilty yesterday to conspiring to bribe a judge for a favorable ruling in a case involving legal fees from a post-Hurricane Katrina lawsuit. Prosecutors said they would recommend five years in prison for Scruggs and 2 1/2 for co-defendant Sidney Backstrom.
CLEARED DEAL: Clear Channel Communications Inc. confirmed yesterday it closed a sale of its television stations to Providence Equity Partners, ending months of contention over the deal. The agreement cuts the price for the 56 TV stations to about $1.1 billion from more than $1.2 billion, Clear Channel said.
NEW HIRES/PROMOTIONS
» Monsanto Hawaii has promoted
Dr. Fred Perlak
to vice president of research and business operations from director of cotton and specialty crop technology. He has held positions with Monsanto since 1981. His achievements include the first Cotton Incorporated Biotechnology Achievement Award in 2001, the 2000 Edgar M. Queeny Award for Science and Technology, and the Thomas and Hochwalt Science and Technology Award in 1994.
» Maui Land & Pineapple Co. has named Robert Webber as chief operating officer and executive vice president. He will retain his duties as chief financial officer and oversee the company's two principal operating units, Maui Pineapple Co. and Kapalua Land Co. He joined the company in 2006 as chief financial officer and senior vice president of business development.
» MW Group has promoted Brian Wong to senior vice president from asset manager and general manager of Pioneer Plaza. He has served the company since 2003 with 10 years experience in commercial real estate.
» St. Francis Healthcare System of Hawaii has announced the following new appointments:
Jerry Correa Jr. to chief administrator of administrative services from vice president of information services. He joined St. Francis in 2000 and also serves as chief administrator of the St. Francis Healthcare enterprises.
Sue Bias to director of human resources from human resources manager. She joined St. Francis in 2004 as benefits manager with 37 years of human resources experience in Hawaii and Calif.
» ResortQuest Hawaii has announced the following new appointments:
General Manager Raymond N. Blouin will oversee regional responsibilities for both ResortQuest Kauai Beach at Makaiwa and ResortQuest Aloha Beach Kauai Hotel in his expanded position. His 25 years of travel industry experience include general manager of the Hanalei Bay Resort, Lae Nani condominiums on the Coconut Coast and the Waimea Plantation Cottages.
Candace Yuen as senior sales manager for ResortQuest Waikiki Beach Hotel. She will be responsible for all sales activities at the oceanfront resort.
Angel Natal as guest services manager at ResortQuest at the Waikiki Banyan. His 15 years of hospitality experience include management and supervisory roles at the Kahala Hotel and Resort, Hilton Hawaiian Village Resort and the W Honolulu Diamond Head Hotel. He is also a former U.S. Marine Corps sergeant and a member of the military reserve.
Kim Asuncion as revenue manager of the ResortQuest Waikiki Beach Hotel. Her 17 years of travel industry experience include guest service manager at the Sheraton Waikiki, assistant bell services manager at the Royal Hawaiian Hotel, Sheraton Moana Surfrider, and Sonoma Mission Inn and Fountaingrove Inn in Calif.
Daniel Trankina as regional sales manager for the Midwest, East Coast, Southeast and Eastern Canada regions. He will be based in Chicago to focus on generating sales in the region. His previous jobs include regional sales manager for Creative Leisure International, Royal Caribbean International and Wyndham Hotels and Resorts, and travel industry sales manager for The Ritz Carlton Hotel Co.
Nikki Shanley as regional sales and national account manager. She will be based in Northern Calif. to oversee sales territory that includes Northern Calif., Utah, Colorado and Kansas. She recently served as business development manager at Pleasant Holidays.
BOARD ELECTIONS
» Chaminade University has announced the following new appointments to its board of regents:
Gae Bergquist Trommald of Communications Pacific, who is currently executive vice president overseeing its marketing division. She also serves as a director of the State Health Planning and Development Agency, an active board member of the Washington Place Foundation and is former chair of the State Foundation on Culture and the Arts board.
Dr. Edison H. Miyawaki is chairman, president and chief executive officer of Family Health I and II. He also serves as board chair for the East West Center, advisor to Shiseido Co. and the Shiseido Welfare Foundation, and is a member of numerous boards including Bishop Museum, Loyola Marymount University, the Japanese-American National Museum in Los Angeles, Harvard Medical School and Beth Israel Hospital-Deaconess Hospital.
AWARDS/CERTIFICATIONS
» Pacific Islanders in Communications has awarded $50,000 in completion funding to local public television director
Na'alehu Anthony
, who is currently producing a documentary about the voyage of the Hokulea from Honolulu to Satawal. The funds were awarded as a result of the organization's Media Fund Rolling Call, in which the Pacific Islander filmmaking community submitted proposals for public television projects at the research and development, and completion stages. The national non-profit corporation supports the development and advancement of Pacific Island media content and talent that contributes to the understanding of Pacific Island history, culture and contemporary challenges. » University of Hawaii West Oahu has honored the following professors or their 30 years of service to the university:
William J. Puette is the director for the Center for Labor Education and Research, having developed a leadership skills seminar, a labor law course, programs on contractual grievance handling, parliamentary procedure and labor history. He also serves as president of the Aloha Ohana Parliamentary Unit of the National Association of Parliamentarians.
Ross Prizzia is the chairperson of the Division of Professional Studies, which includes degree and certificate programs in public, justice and health care administration, as well as disaster preparedness and emergency management, business administration and accounting. As a professor of public administration since 1976, he teaches and conducts research in human resources administration, environmental administration, comparative administration and disaster management. He has also served as peer reviewer for the Journal of Environmental Economics ad the American Review of Public Administration.
---
BUSINESS PULSE