---
KAI A KEY TO U.S. WIN OVER DENMARK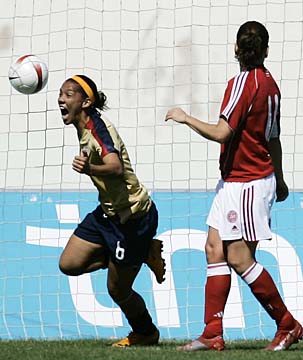 Gatorade honors Iolani senior
Gatorade has named Iolani senior Jamie Smith its 2007-08 Gatorade Hawaii girls basketball player of the year. Smith led the Raiders to the Division I state final with averages of 19.7 points, 10.5 rebounds, 1.8 blocks and 1.5 steals per game. She has a 3.31 grade-point average.
Hawaii blanks Black Bears
Consecutive home runs by Kate Robinson and Brandi Peiler in the sixth inning highlighted 16th-ranked Hawaii's 9-0 victory over Maine yesterday on the first day of the Chevron Spring Fling Tournament at Rainbow Wahine Softball Stadium.
Freshman second baseman Melissa Gonzalez went 4-for-4 with two doubles, while third baseman Clare Warwick was 4-for-5 with two RBIs and Robinson added three hits and scored twice for the Rainbow Wahine (18-6).
---
[ PACWEST PLACE ]
Alves, Kolaric make All-West team
Lucas Alves of Brigham Young-Hawaii and Chaminade's Marko Kolaric were named to the Daktronics NCAA Division II All-West Region men's basketball team yesterday.
Alves, a sophomore post player from Brazil, was named Pacific West Conference player of the week four times and led the league in scoring with a 20.5 points-per-game average. He received All-Region all-academic honors earlier this season.
Kolaric, a senior forward from Serbia, took player of the week honors three times. He averaged 12.6 points per game during the regular season.
Hawaii Pacific junior guard Jason Curtis was named to the All-PacWest second team, and teammates Rishi Kakad and Justonn Smith earned honorable-mention nods.
PacWest champion Chaminade (20-7, 15-3 PWC) plays Humboldt State tomorrow in first round of the NCAA D-II regional tournament in Anchorage, Alaska. BYUH (18-7, 13-5) also plays Friday in an opening-round matchup against Cal State-San Bernardino.
Jenkins, Azevedo are all-conference
Hawaii Pacific's Ashley Jenkins and Sheila Azevedo of Hawaii-Hilo were named to the PacWest Conference women's basketball first team.
Jenkins, a senior guard, led the PacWest in scoring, averaging 18.1 points and 6.3 assists per game. She also was a Daktronics West Region second-team pick.
Azevedo, a junior forward who averaged 13.9 points and 7.0 rebounds per game, was a PacWest first-team repeat selection.
UH-Hilo's Nesha Ann Kimitete and BYUH's Agnes Tuilevuka and Richelle Fenenbock made the all-conference second team.
Ashley Kualii and Jessica Hanato from the Vulcans earned honorable-mention honors.
Hawaii Pacific volleyball signs 2
Hawaii Pacific women's volleyball coach Daryl Kapis signed Tricia Yoshimura and Hikaru Kozuma to play for the Sea Warriors next season, the school announced yesterday.
Yoshimura, a sophomore transfer from Oregon State, earned All-ILH honors at Hawaii Baptist. She is projected to see action as a defensive specialist.
Kozuma is a junior transfer from SUNY-Delhi who earned NJCAA Division III All-Region honors last season.