---
FAST FACTS HAWAII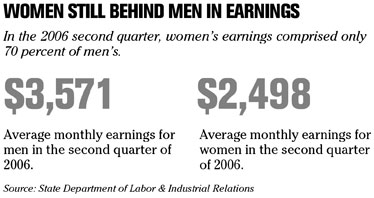 ---
BRIEF CASE
WATCH YOUR LANGUAGE:
A new study by the Nielsen Co. found that the PG-rated movies with the least profanity made the most money at the U.S. box office. Among PG-rated films, sexuality or violence had less to do with success than the language, it said in a study of 400 films in wide release from the fall of 2005 to the fall of 2007. The firm cross-referenced box office data with films' ratings for sex, violence and profanity.
PROFIT O' THE IRISH: Irish airline Aer Lingus posted a stronger-than-expected profit for 2007 yesterday after a loss a year earlier, its last under control of the Irish government. Aer Lingus earned 105.3 million euros ($161.7 million) in 2007 versus a loss of 69.9 million euros in 2006. Since going public in September 2006, Aer Lingus has fought off a hostile takeover by rival Ryanair, battled unions over cost cutting and expanded its route network and fleet.
---
BUSINESS PULSE