Maui gas hits $4
Some residents wonder why prices are at least 40 cents higher than on Oahu
STORY SUMMARY »
WAILUKU » Some Maui County residents are staying home more and driving less as the price for unleaded regular gasoline has already soared above $4 in rural areas and appears poised to move above $4 in Wailuku.
Unleaded regular sold for $4.33 yesterday at Lucky's Gas Station in west Molokai and $4.62 at Lanai City Service. Diesel fuel already costs more than $5 per gallon on Lanai.
Some residents cannot understand why gasoline prices on Maui are at least 40 cents more than on Oahu.
"Who's making the money?" one Maui resident demands.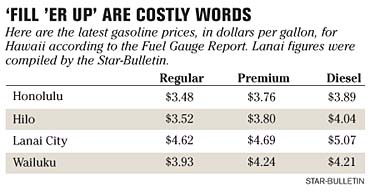 ---
FULL STORY »
WAILUKU » Automobile mechanic Ron Smith estimates his cost for gasoline has gone up 30 percent to 50 percent in the last five years.
"I don't go out to restaurants any more, don't go to movies, definitely don't go on vacations," said Smith.
He doesn't expect any relief as fuel prices continue upward on Maui and have already soared past the $4-a-gallon mark in rural areas.
The average gasoline price for unleaded regular in Wailuku, the county seat located only a few miles from the fuel transshipment port of Kahului Harbor, appears poised to set a new town record and edge past $4 a gallon.
The average price yesterday for unleaded regular gasoline was $3.48 in Honolulu, $3.52 in Hilo and $3.93 in Wailuku, according to AAA Daily Fuel Gauge Report.
The highest recorded average price for unleaded regular in Wailuku was $3.94 on Monday, according to AAA.
At Wailuku Chevron yesterday, gasoline sold for $3.95 for regular, $4.05 for plus and $4.15 for supreme.
In rural areas of Maui County, gasoline prices have already climbed well over the $4 mark, including $4.62 a gallon for regular at Lanai City Service, the only public gas station on the Pineapple Isle. Premium was $4.69 on Lanai and diesel was $5.07 per gallon.
Prices yesterday for regular gasoline were $4.39 at a station operated by the Hotel Hana-Maui, $4.33 at Lucky's Gas Station in Maunaloa, Molokai, and $4.13 at Rawlins Chevron Service in Kaunakakai.
"It's high, but I don't see people slowing down," said Shirley Rawlins, who works at Rawlins Chevron. "They still driving all over."
George Purdy, a firefighter on Lanai, said people are still driving their cars to and from work but limiting their travel elsewhere.
"You use your gas just to go to work and go home and hope you can find a friend who's going to the beach," he said.
Lanai resident Ofelia Plunkett, who lives in Lanai City, said she's looking for other alternatives.
"A lot of people like me are trying to walk around because it's so expensive," she said.
But Plunkett said some travel by car is necessary -- such as trips to the airport four miles away and to Kaumalapau Harbor to pick up shipping freight.
Smith said while gasoline prices have increased, he hasn't been able to increase his income.
"Everything else stays the same," he said.
Smith said he can't understand why gasoline prices on Maui are at least 40 cents more than on Oahu.
"Who's making the money?" he asked.
Lanai City Service Vice President James Coon said gas prices are high at his business because it serves a small market and requires a special fuel barge.
"It costs a lot to get it there," Coon said.
With two teenagers as dependents, Smith said he knows he's the one who's paying the bills.
He said he was planning to put his son through engineering school without getting a loan.
"It's definitely cutting into his college fund," he said.