| | |
| --- | --- |
| | By Request |
---
Reader craves Coffee Bean's sugar cookies
Catalina Hatchit has made a study of this particular topic and can say with authority: "These were the best sugar cookies I've ever had, and I have tried them all."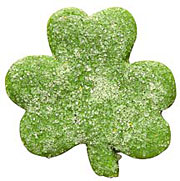 The cookies of which she speaks are from Coffee Bean & Tea Leaf. They came in the shapes of flowers and a shaka, and she hasn't seen them in a while, prompting a request for a recipe.
The cookies are seasonal, a spokeswoman for Coffee Bean says. Shapes and colors vary through the year, but they're all based on the same master recipe. In stores now are shamrock cookies for St. Patrick's Day.
So start here and decorate to match your mood.
Sugar Cookies
2-1/4 cups sugar
2 sticks butter
1 teaspoon vanilla
2 eggs
1/4 teaspoon salt
4-1/2 cups flour
» Royal Icing
1-1/2 pounds powdered sugar
Pinch cream of tartar or 1/4 teaspoon lemon juice
2 to 3 egg whites
» For decorating:
Food coloring
Colored decorating sugar
Preheat oven to 320 degrees.
Beat sugar, butter and vanilla until smooth and fluffy, about 3 minutes.
Add eggs and blend until just combined.
Add flour and salt and mix on low until mixture comes together. Turn dough onto a well-flowered surface. Roll out to about 1/4-inch thickness and cut into desired shapes. Place cutouts on cookie sheet and bake 10 to 15 minutes, until golden brown. Makes about 36 cookies, using 2- to 3-inch cookie cutters.
To make icing: Combine sugar and cream of tartar in a mixing bowl. Add 2 egg whites and beat on low speed until combined. Beat for about 60 more seconds. If icing is too stiff, add remaining egg white and blend until completely incorporated. Remove from mixer and cover with damp cloth until ready to use.
Decorating suggestions:
» Place icing in a piping bag and pipe around edges of cookies. Dip into decorating sugar, making sure that sugar covers all the icing.

» To frost entire cookie, loosen icing with a little more egg white. Add food coloring as desired and blend well. Frost cookies just until the edge. Let dry or dip in sugar.

» For a sandy sugar coating, brush cookies with egg whites before baking and sprinkle with colored sugar. Bake as directed.

» For St. Patrick's Day, dough can be colored green by adding a few drops of green food coloring when beating the butter and sugar.
Allow the cookies to dry for 24 hours before packaging.
Nutritional information unavailable.
CORRECTION
Wednesday, March 12, 2008
The above recipe for St. Patrick's Day sugar cookies was missing the eggs from the ingredient list. Two eggs should be beaten in after the butter and sugar are creamed together. Also, the amount of butter should be two sticks, or one cup. The amount given was incorrect.
Send queries along with name and phone number to: "By Request," Honolulu Star-Bulletin, 500 Ala Moana, No. 7-210, Honolulu 96813. Or send e-mail to
bshimabukuro@starbulletin.com