Profits for Kona-based company increased in quarter
Mera Pharmaceuticals Inc., which produces human nutritional products out of microalgae, narrowed its fiscal first-quarter loss to $115,647 as revenue jumped 82.5 percent largely due to a revised and newly extended technical service agreement with Hawaii-based HR BioPetroleum Inc.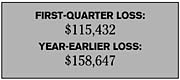 Kona-based Mera reported in a Securities and Exchange Commission filing late Monday that the deal with Honolulu-based HR BioPetroleum, which became effective in December, accounted for 54 percent of Mera's total revenue in the quarter ended Jan. 31, and that Mera's revenue is expected to rise in future quarters as it enters into new agreement with other entitites.
Mera makes an AstaFactor line of products consisting of astaxanthin, which is an antioxidant and anti-inflammatory agent.
HR BioPetroleum's agreement allows it to use Mera's facilities for 18 months to perform a research project relating to large-scale cultivation and production of certain microalgae species, and grants HRBP license rights to a patent and other intellectual property owned by Mesa.
Mera Chief Executive Gregory Kowal, who declined to disclose the value of the HRBP deal, said the quarter was "one of continued growth."
"It shows the company's on the path to become profitable in the near future," he said. "Our revenues are continuing to grow. The second quarter will be at least 10 percent better than the second quarter a year ago."
In December, Royal Dutch Shell Plc, Europe's largest oil company, and HRBP, which has experience in growing algae, announced they were forming a joint venture to build an algae-growing plant on the Big Island to produce vegetable oil for biofuels.
Kowal said that Shell and HRBP are using Mera's facilities to run a trial and that they are building a plant next to Mera's facility. Last month, Mera entered into a 30-year lease for its Kona facility.
Separately, Mera will have an appeal hearing tomorrow over a delisting notice received by Nasdaq for three delinquent filings over a two-year period. Nasdaq oversees companies on the Over-the-Counter Bulletin Board, which is where Mera is listed. If Mera, which is now trading under the ticker MRPIE, loses its appeal, it would be dropped to the lesser-regarded Pink Sheets for 12 months.