Job growth steady from December to January
Despite a significant slowing in job growth, Hawaii still managed to create new jobs in January for the third month in a row.
The state's seasonally adjusted unemployment rate was 3.1 percent in January -- the same as a lower revised rate for December -- but higher than the near-record 2.4 percent a year earlier, according to data released yesterday by the state Department of Labor and Industrial Relations.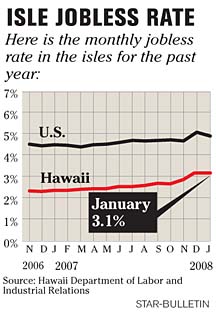 The nationwide average for January was 4.9 percent. By state, Hawaii ranked sixth. South Dakota was lowest at 2.6 percent, followed by Wyoming, Idaho, Nebraska and Utah.
In Hawaii, nonagricultural jobs grew month-over-month from December by 2,700 to 628,700 -- the third consecutive month of growth.
All six industries tracked by the state posted job gains in January with the highest increases in construction; trade, transportation and utilities; and educational and health services, which posted more than 200 new jobs each. Leisure and hospitality and other services followed, with more than 100 new positions.
"One of the saving graces we see from the employment side is that many of our key industries in Hawaii such as construction ... they're still creating new jobs," said James Hardway, special assistant to the DLIR director. "You do have some employers that are closing their doors or transitioning, but a lot of the displaced employees are able to find new jobs."
Hawaii's overall labor force grew in January by 5,200 over the preceding month to 653,700.
Revised data for 2007 showed that the seasonally adjusted job count increased by nearly one percentage point to 5,000 jobs, compared to the previous estimate that jobs would rise by nearly two percentage points to 12,000 jobs. The private sector -- primarily construction -- accounted for 76 percent of the gain.
"The thing that strikes me about the numbers is how much slowing has already occurred," said University of Hawaii economist Carl Bonham. "The rate of growth of jobs and employment has slowed significantly."
Categories including professional and managerial jobs continued to grow at a slower pace, while trade jobs have virtually stopped growing altogether since the middle of 2007, he said.
"I worry that three months doesn't make a trend," Bonham said. "You need to take it with a grain of salt. The monthly data is quite volatile -- we have a high level of total employment and low unemployment rate, but growth seems to have stalled out."