Sea alarms set
The final two buoys for a tsunami alert network are deployed
WAILUKU » The final two tsunami detection buoys for the Pacific warning network were deployed this week, completing a system of sensors begun after the 2004 Indian Ocean disaster that killed hundreds of thousands of people.
Scientists say the new system will show whether an earthquake has generated a deep-ocean wave, reducing the chances of an unnecessary evacuation in Hawaii and increasing detection coverage in places such as the western Pacific and South America.
"It means that basically our uncertainties about tsunamis from tricky places have pretty much been removed," said Gerard Fryer, a geophysicist for the Pacific Tsunami Warning Center in Ewa Beach. "Right now, as far as Hawaii is concerned, we no longer have any blind spots, and let me tell you it's a wonderful feeling."
The final two buoys were deployed off the Solomon Islands, about 111 miles northeast of Australia. The network has 39 stations in the Pacific, Atlantic, Caribbean and Gulf of Mexico.
Fryer said that before 2004 there were six tsunami detection buoys, four of them in the Pacific and two not working.
He said scientists continue to monitor the magnitude of earthquakes and potential tsunamis through a network of seismometers.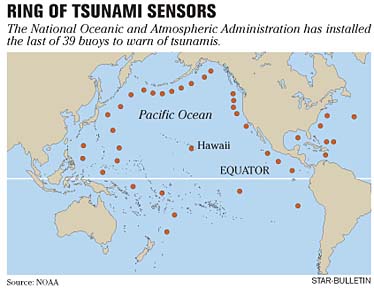 ---
Before the development of buoy technology, scientists measured wave changes through tidal gauges along coastlines.
Buoys that record wave pressure at the bottom of the ocean have enabled scientists to be more accurate in their predictions, Fryer said. Unlike surface waves generated by wind, tsunamis reach all the way to the bottom of the ocean.
The latest deep-ocean buoys, which are more reliable and cost about half as much as ones made several years ago, are able to receive wave information through low-energy sound from seabed sensors. Information is transmitted from the buoy to a constellation of earth-circling satellites.
While the northern Pacific Rim is known for frequent earthquakes, South America was the source of a tsunami in 1960 that killed 61 people in Hilo.
The magnitude of the earthquake in Chile was so large it went off the scientific measuring scale at the time and was thought initially to be magnitude 8.5, Fryer said.
Fryer said scientists took 10 years to determine that the earthquake in Chile was a 9.5.
"It was far bigger than anybody understood," he said.
Fryer said to make matters worse, an earthquake of 8.4 had generated waves of a few inches the day before the tragedy, so people "thought it was no big deal."
"We have much better instruments now," he said. "We understand the process much better."
The U.S. Tsunami Warning System is operated by the National Oceanic and Atmospheric Administration, which also oversees the Pacific Tsunami Warning Center. The agency, part of the Department of Commerce, is also working with 70 countries and the European Commission to develop an integrated global monitoring network.