Lava spectacle awes thousands
HILO » Madam Pele's show changes daily as thousands trek more than a mile to watch lava flowing into the sea from a Kalapana overlook that was opened Saturday.
"The report today is that lava is vigorously going into the ocean," Hawaii Mayor Harry Kim said yesterday. "On Sunday the tube system almost completely died."
Kim said the county put out a radio advisory Sunday that the flow had slowed. "We didn't want people to be disappointed."
About 8,000 people visited the site Saturday, "unbelievable in our estimation," Kim said. "Previously, 5,000 in one day was the biggest crowd I saw" -- years ago at Kalapana.
On Sunday about 4,000 went to the viewing site beyond the end of Highway 130.
Kim said isle airlines reported being booked solid as residents from all over the state as well as visitors responded to the opening of the viewing site.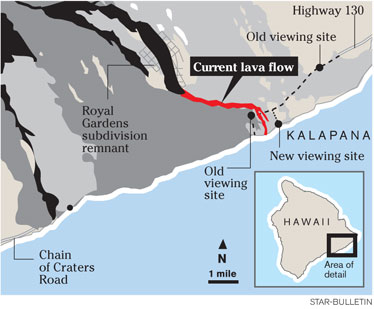 ---
Scientists from the Hawaiian Volcano Observatory planned to fly over today to examine apparent breakouts in the lava tube from the Puu Oo vent. "The flow diminished in vigor, but it seems to be coming back," said Jim Kauahikaua, scientist in charge.
The Big Island mayor said the vast majority of viewers were respectful of private property and Hawaiian cultural values but that a "very, very small percentage" showed disrespect by leaving trash, for example.
The family most immediately affected was Michael Pai and his wife, 'U'i, who have an open-air shelter facing the remnant of Highway 130 that serves as the access to the hiking trail. Pai had called the huge number of people trekking past his once-isolated home a "desecration."
Kim met with Pai on Sunday. Yesterday the path of the hiking trail was shifted so that hordes of people no longer go directly past Pai's house.