Twit vandals egged him on, neighbors say of Jervis' crash
Jervis' neighbors hope the car chase and crash will cow egg-chuckers
STORY SUMMARY »
Dried egg marks deface the walls of homes, a front door, a parked car and a boat.
Lanikai residents are now hoping a highly publicized car chase and crash -- the evident aftermath of an egg-throwing spree -- will make vandals think twice before returning to their upscale neighborhood.
Neighbors of lawyer Gerard Jervis, a former Bishop Estate trustee, say they understand why he became upset Friday after his house was hit with eggs. But they do not condone his response -- driving off after a sport utility vehicle containing four Saint Louis School students.
The SUV ended up lodged against a wire on a telephone pole. No one was hurt.
Jervis will plead not guilty to first-degree criminal property damage when he appears in District Court tomorrow, said his attorney, Paul Cunney.
---
FULL STORY »
Lanikai residents are hoping an apparent egg-tossing joy ride that led to a car crash last week will prevent vandals from returning to their upscale neighborhood, which they say has also been hit with car and home thefts for years.
Neighbors of Gerard Jervis, a former Bishop Estate trustee accused of driving in pursuit of teenagers who allegedly egged his home and ramming their sport utility vehicle into a telephone pole, said they understood why he became upset, though they did not condone his action.
"I'm sure a lot of people share his frustration," said Mike Groza, who lives a few houses down from Jervis on Onekea Drive and whose front door has two egg marks. "I mean, you are sitting at home, it's a quiet evening and somebody comes by and chucks a bunch of eggs. It's kind of frustrating."
Jervis was arrested late Friday night after a car chase that ended with an SUV carrying four Saint Louis School students hanging off of a cable at the intersection of Aalapapa and Kaelepulu drives. No one was injured.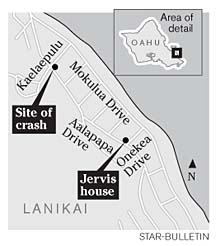 The driver of the car was Saint Louis senior Geordon Hanohano, a source told the Star-Bulletin last night. Hanohano signed a letter of intent last month to accept a football scholarship at the University of Hawaii.
A UH spokesman said last night the school would await further information before making any decision regarding Hanohano's future with the school and team.
Saint Louis, a Catholic school for boys, issued a statement earlier yesterday saying, "We take this matter very seriously and we will take appropriate action" after an investigation is completed.
"We expect every student to be leaders on and off the field while reflecting the true characteristics of a gentleman," it said.
Jervis will plead not guilty to first-degree criminal property damage, a felony punishable by up to 10 years in prison, when he appears in District Court tomorrow, said his attorney, Paul Cunney.
According to a police affidavit, Jervis had a blood alcohol content of 0.1 percent, above the legal limit of 0.08, but he had not been charged with drunken driving as of late yesterday afternoon, officials said.
Jervis, who was resting at home yesterday, denied a request to speak with reporters. A phone message left at his office was not returned.
Cunney said Jervis was watching the stars after he and his wife returned from dinner when the egging happened. Jervis, he said, got into his black BMW sedan, followed the SUV and flashed his lights so the teenagers would stop.
He claims Jervis hit the SUV only after its driver crashed during a turn.
"That's where the kids lost it. They lost control of the car," Cunney said. "These kids put themselves at risk when they planned this scheme to go egg houses all over Lanikai."
Police are investigating whether the teenage driver of the SUV was intoxicated, said Honolulu Police Department spokeswoman Michelle Yu. She said police also are investigating the three passengers for harassment in connection with the egg-throwing.
Several Lanikai residents said yesterday that the egging of homes, as well as car and home burglaries, are common, and some blamed police for not going after vandals aggressively enough.
But acting Maj. Nyle Dolera of the Windward District said Friday's egging was the first reported in Lanikai this year. He said Kailua had a spike in car break-ins in January, reaching 140 cases, and that police brought down those incidents to 70 last month.
"Many times there are no suspects," he said. "You come home and you discover it on your window, on your house and on your yard. That's the difficulty in prosecuting these types of cases."
Dolera said victims of vandalism should try to get a description of the suspect and a license plate number and then call police. "I wouldn't recommend or encourage people to chase a suspect down the street," he said.
Lanikai resident Monique Maxey, 42, said her car used to get egged as often as every week when she parked it on the side of the road. She said she hopes Friday's accident shows people that vandalism is a dangerous crime.