Peace trek: A storied journey
"Peace be with you."
Maui resident Brandon Wilson has made those words a guiding phrase during his extensive travels, never more so than in the 2006 trip he writes about in "Along the Templar Trail: Seven Million Steps for Peace" (Pilgrim's Tales, $27.95 hardcover, $17.95 paperback).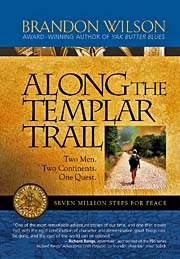 Meet the author
Brandon Wilson discusses "Along the Templar Trail" at free appearances on Maui:

» Saturday: 2 p.m., Borders Kahului, 877-6160

» April 8: 6:30 p.m., Kahului Public Library, 873-3097
A noted explorer, author and photographer, Wilson walked 20 miles per day through two continents and 11 countries in a 160-day trek for peace to Jerusalem. He followed a trail long associated with war, one taken 1,000 years ago by Crusaders and those who became the first Knights Templar.
He was accompanied part of the way by his 68-year-old French friend, identified only by his first name, Émile.
Unlike Wilson's previous two treks -- along the 500-mile Camino de Santiago in northern Spain and the 1,150-mile Via Francigena from Canterbury, England, to Rome -- the Jerusalem trip had its rare treacherous moments.
But it was worth it for Wilson.
"I wanted to take a walk for peace because there are peaceful solutions to our problems," he said by phone from his Upcountry Maui home. "So many of the countries the trek went through have been wrapped by war for centuries. Thankfully, there were very few instances along the way that we felt unsafe.
"Of the hundreds of people we met, there were amazing instances that they showed kindness to us. We called them our angels," Wilson said. "When we were hungry, they would give us food, when thirsty, drink, and helped us when we needed shelter."
When he mentioned being from Hawaii, Wilson added, "that always got wonderful results. It's still seen as a far-off dream paradise and all that America isn't. When the U.S. was mentioned in conversation, the response changed quite a bit."
One reason Émile couldn't complete the 2,620-mile trek was that the terrain and weather grew harsh at times, from near-freezing conditions in Germany's Black Forest to the repressive heat of the plains of Turkey.
"And when war broke between Israel and Lebanon during that time, missiles would cross back and forth across their common border," Wilson said. "There was also dealing with a bombing attempt at the airport in Beirut, and violence around the American Embassy in Damascus."
Still, Wilson hopes that the Templar Trail will open again, for "future walkers and pilgrims to walk in safety, and to basically use my book as a practical guide. Once people walk together, they will dispel their common fears and prejudices against each other. When comparing blisters on weary feet, you realize that everybody is looking for the same thing in life, namely peace."
Wilson likes to tell one story of a random act of kindness, from a day of walking through a desert in Turkey. "I was totally out of water, and I happened upon a cattle water trough just off the road. The water, unfortunately, looked pretty disgusting. But then, two guys came along and asked about my predicament and then told me to 'come with us.' They lead me through an olive grove, and just behind it there was this huge feast happening. I had half a watermelon and some cheese, more food that I had in a week."
When it came time to pack up, he noticed they'd left their remaining food behind. "When I asked why they didn't they take it, they said, 'Oh, that's for you.'"
His arrival in Jerusalem during the time of both Yom Kippur and Ramadam was surreal, he said. "First, it was coming into the Old City, passing through the Jafa Gates and seeing this sea of people and pilgrims, of everyone coming into the Holy City for the holy days."
The walking hasn't stopped. "Last fall I took a thousand-kilometer trek along the old Roman road, the Via dia Plata that goes from the south to the northwest of Spain, where St. James is buried at Santiago de Compostela."
Chances are good you'll be reading about that trip soon.