More condos were sold on Maui, yet prices decreased
STORY SUMMARY »
While a drop in mainland residential markets has begun to filter down to Maui, single-family home and condominium prices held fairly steady in February with low single-digit drops.
The pace of sales picked up across the market, but sales volume was a mixed bag. Single-family home sales on Maui plummeted in February, but more condominium units changed hands.
More "short-sales," which is a mark of a downwardly trending market, appeared on Maui.
However inventory held steady. Continued low interest rates are forecast to provide plenty of options for buyers.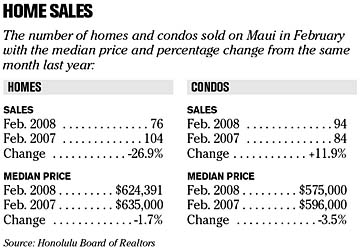 ---
FULL STORY »
Year-on-year sales volume and pricing continued to drop for Maui's single-family home residential real estate market in February and condominium prices followed suit. However, there were more condominium sales than the same period last year, according to data released over the weekend by the Realtors Association of Maui.
In February, there were 26.9 percent less single-family home transactions than the same month in 2007. However the median price stayed relatively flat with a scant 1.7 percent decline to $624,391. The number of condominium units sold on Maui in February increased 11.9 percent, but prices fell 3.5 percent to $575,000.
"February numbers show a general recovery from January's downward tick, yet only time will tell if it sustains," said Terry Tolman, the chief staff executive for the Realtors Association of Maui Inc. "Since the market peaked in summer '05, the monthly numbers have bounced up, down and sideways with a general cooling trend."
Some mainland markets have suffered and that filters down to the Maui market, Tolman said.
"More 'short sales' are appearing on the marketplace," he said. A short sale, which occurs when a seller cannot sell their home for the value of the note and has asked the lender to forgive the balance, is one sign of a downward- trending market.
However, inventory of homes, condos and land continues to hold steady after increasing from last spring and summer, Tolman said. And, continued low interest rates should provide plenty of options for buyers, he said.
On another positive note, the pace of sales for both the single-family home and the condominium market improved in February. Buyers shouldn't wait for Maui's market to bottom out or they may miss unique properties/opportunities as market forces, qualification requirements and rates may fluctuate, Tolman said.
On the other hand, sellers need to set realistic prices and ensure that their properties are in good condition to be successful, he said.
"Unrealistic sellers will follow the market down and miss current opportunities that later become woefully apparent," Tolman said.