---
FAST FACTS HAWAII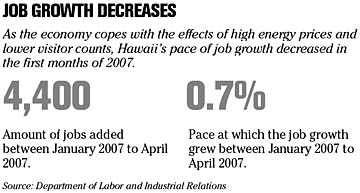 ---
NATION
Europe boosts McDonald's sales CHICAGO » Consumer spending and confidence may be waning, but people still need that jolt of morning caffeine to wash down an egg sandwich.
McDonald's Corp.'s big push on coffee and new breakfast items in its U.S. restaurants contributed to a double-digit jump in same-store sales last month, accompanying even stronger growth in Europe, the company said yesterday.
The world's biggest fast-food chain reported that sales from its outlets open at least 13 months climbed 11.7 percent over a year earlier -- evidence that the economic slowdown hasn't dealt it the blow that some investors had earlier feared.
While its new specialty coffees won't be available in all its U.S. restaurants until next year, analysts said they have heard positive feedback on how the products are faring in the 1,000-plus McDonald's where they are served. In the meantime, the company said the premium roast coffee it rolled out two years ago helped fuel U.S. same-store sales growth of 8.3 percent in February.
Cruisers to get fuel-fee payback
MIAMI » Cruise lines
Carnival Corp.
and
Royal Caribbean Cruise Ltd.
have agreed to reimburse passengers for fuel surcharges that were not adequately disclosed, the Florida attorney general announced yesterday.
The settlement affects 300,000 bookings -- the number of customers involved was not immediately available -- and will return $21 million to people who made trip deposits as of Nov. 15. The world's top two cruise operators announced in November they would start billing passengers to offset rising fuel prices -- $5 per person, per day -- for voyages beginning Feb. 1.
BRIEF CASE
DISNEY ONLINE
: Walt Disney Co., the second-largest U.S. media company, expects $1 billion in Internet sales this fiscal year, according to Chief Executive Robert Iger. The forecast excludes sales of resort ticket packages and theme-park products, Iger said yesterday at a Bear Stearns Cos.' investor conference in Palm Beach, Fla.
HIGH INFLATION: China's inflation rate jumped to a decade high of 8.7 percent in February as food costs soared after winter storms wrecked crops and disrupted shipping, the government said today. The figure exceeded forecasts and raised the likelihood of interest-rate hikes or other emergency steps by Chinese leaders, who worry about a possible political backlash if soaring prices erode rising living standards.
---
BUSINESS PULSE