'Juana' crowns wee proprietresses
Tired of books boasting that Prince Charming will save the day, Daphne Nowell wrote a children's book, "Juana Meets Gabriel, the Small Business Angel" (Business Angel Press, $17.95).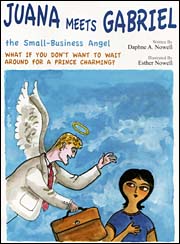 "It was a small pebble of defense against the avalanche of books and media which promote, 'I want to be a princess when I grow up and do nothing and be taken care of by someone else,'" said Nowell. "To me that's very unsatisfying and wasteful and just not realistic."
Nowell was trained as an artist at the University of Hawaii and the Honolulu Academy of Arts, like her mother, Esther Nowell, who illustrated the book.
She now lives in Southern California, following in her late father's footsteps working as a real estate investor, developer and entrepreneur.
"I was never given one word of advice from my schools on how to make a living as an artist," she said. "And, because schools often give children an education but don't always give instruction on how to make a living with the education, we must explore other avenues."
Juana, the main character in her book, dismisses the need to be rescued by a prince and proceeds to open her own business, a pet-grooming shop. Throughout the pages, she is introduced to the steps that need to be taken to become a successful business owner. A list of resources for starting a business is included at the end of the story.
"I decided to write a book to inspire children, especially girls, to think about owning their businesses," Nowell said. "When I was growing up, it never occurred to me that I could be a business owner. The reality is that everyone should be equipped with the skills to take care of themselves."
Parental guidance can go a long way, she added. "What we verbalize to our children is very powerful. We should tell them they can do anything they want. After all, many successful people comment that their parents always told them, 'Whatever you want to do, you can do it if you work hard enough.'"
Involving kids in family finances also helps. "And it's not just teaching them about bank statements and checkbooks. Listening to their opinions and making them feel that they have input into decisions will make them more interested in finances and make them more confident later in life."
---
"Juana Meets Gabriel, the Small Business Angel" is available at
www.amazon.com
and
www.BarnesandNoble.com
or by calling (800) 705-6545. Locally, the book is sold at Wabisabi Gallery.
Start early
How kids can start on the entrepreneurial path:

1. Decide what you like to do or are interested in. Set a goal. Fantasize and build a picture.

2. Do research in the library or on the Internet.

3. Make a list of the steps needed or knowledge that must be acquired, and review it with an adult. Then start crossing items off your list.

4. Start an entrepreneur club at school to have peer support.

5. Contact score.org if you want a mentor; online forums are great support.

6. Volunteer to work for free at first.

7. Start now, while you don't have mortgage payments or a family to support.

Source: Daphne A. Nowell