Lava viewing opens
The Big Island mayor learned his lesson on restricting observers
HILO » Big Island Mayor Harry Kim has a special place in his heart for Minnie Kaawaloa.
She was the Hawaiian elder who gently scolded Kim in 1986, when he was the county Civil Defense director, for his intention to keep local people away because they wanted to watch their homes in Kapaahu being consumed by lava.
"That was a wake-up call," Kim said later.
Kaawaloa will be honored today as the featured speaker at opening ceremonies for a new county lava-viewing site.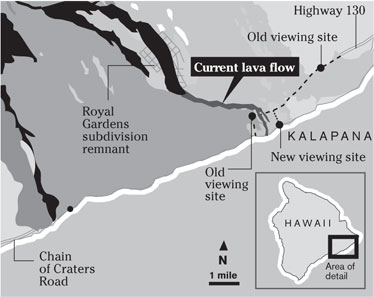 The area is just a few hundred yards from where the little community of Kapaahu once stood.
Having learned the lesson Kaawaloa taught him about not keeping people away, Kim has set up free viewing where hundreds of people a day are expected to visit.
Hula instructor and part-time District Judge Pua Brown, coordinating the 2 p.m. opening for Kim, said Kaawaloa will do a blessing. "It's going to be real small and real simple," she said.
Gov. Linda Lingle will come, too, but not as part of the ceremonies. Lingle and Hawaii National Guard Maj. Gen. Robert Lee will take a commercial flight to Hilo in the morning and then board a National Guard helicopter for a one-hour air tour of the flow area about 25 miles south of Hilo.
Official were busy making last-minute preparations yesterday for the crowds.
The ceremonies will be held at the last site on Highway 130 with ample parking, the place where it meets the first of several flows from previous decades. That is still 2.5 miles from the viewing site, said county Managing Director Dixie Kaetsu.
After the ceremonies, cars can drive forward to a remnant segment of the highway and park facing out of the dead-end spot. The closest parking is still a half-mile hike to the new viewing area.
Officials are hoping visitors heed the call to bring plenty of water and wear sturdy shoes. A series of plastic posts with reflective tape will mark the path over rough ground.
Viewing continues to 10 p.m., but there will be no moon at night. Blinking lights normally used to mark traffic hazards will be placed on the trail to keep people from falling into holes, but not enough to mark the entire trail, said county chief engineer Bruce McClure.