State to study risks of Kailua boulders
The state will hire a rockfall expert to check whether boulders found on land it owns on a steep hillside in Kailua pose a threat to residents below.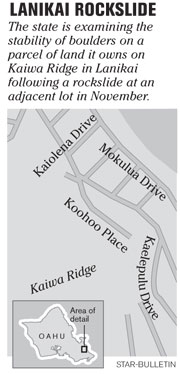 The study of the nearly 40,000-square-foot state parcel at Kaiwa Ridge in Lanikai was prompted by a 10-ton boulder that rolled down from an adjacent private lot following heavy rain in November and struck a home.
On Dec. 26, staff with the state Department of Land and Natural Resources discovered "scattered outcrops of boulders" in a small portion of state land, the agency's chairwoman, Laura Thielen, wrote in a letter to state Rep. Tommy Waters, who represents Lanikai and asked for the survey.
State geologists visited the ridge on Jan. 14 but could not reach three sites that "need a closer look," DLNR spokeswoman Deborah Ward said yesterday. The state hopes to hire a geotechnical firm by month's end so that its employees can climb the hill and complete the assessment, she said.
"It's very steep and rough terrain," Ward said.
Waters (D, Lanikai-Waimanalo) told the DLNR in a letter that he wanted the study done because residents had contacted his office saying they knew of several more boulders on the hillside. Waters could not be reached for comment yesterday.
Lanikai resident Ron Seiple, estimating the boulder that smashed into his home in November caused about $200,000 in damage, welcomed the state inspection. The boulder left a 100-yard path of toppled trees and brush before it shattered a sliding glass door and stopped.
"I don't think anybody should have a boulder come down on the back of their house," he said yesterday. "There's a lot of rocks on the hill."
A community push to protect Kaiwa Ridge from development led to the state's purchase of some of the land in 1994, according to the DLNR. The 600-foot ridge has a mile-long trail that includes World War II bunkers and offers hikers a panoramic view of the Pacific Ocean and the Koolaus, it said.