---
[ STYLE FILE ]
'Cherished Heritage' at Royal Hawaiian Hotel
Honolulu Fashion Week founders and designers Eric Chandler and Takeo will share the runway with three F.A.C.E. of Honolulu fashion competition winners -- Andrew Southiphong, Allen Carrell and Katrina Bodnky -- when the Chinese Women's Club of Honolulu presents "Cherished Heritage II," its 80th-anniversary luncheon fashion show, Saturday.
Tickets are $55 per person or $550 per table of 10. Funds will support the organization's scholarship and welfare programs. For tickets, call Violet Tam at 737-9046.
Blandi is Sephora's mane attraction
Oscar Blandi, hair stylist to the stars, will be at Sephora to share tips and tricks for this season's hottest hairstyles.
Events will take place from 1 to 6 p.m. tomorrow and from noon to 6 p.m. Saturday at Ala Moana Center. In addition, he will be presenting a 2 p.m. demonstration at CenterStage.
On Sunday he heads to Sephora Pearlridge for demonstrations and styling consultations from noon to 6 p.m.
For more information, call the Ala Moana store at 944-9797 or Pearlridge at 487-0660.
Tips on achieving signature style
Style guru William Squire will be in town to talk about achieving "Your Signature Style" during Ala Moana Center's "Shop a Le'a" event through the weekend.
He'll be at the Nordstrom Cosmetic Tailgate Party, from 7:30 to 9:30 a.m. tomorrow, and will be available to talk about 2008 fashion trends and answer style questions from 11 a.m. to 5 p.m. tomorrow through Monday at Nordstrom's Chanel Makeup Studio.
Squire, a Hollywood makeup artist, agent and author of "The Model's Workbook," devised Your Signature Style with model and actress Lisa Dean to help women discover the makeup, clothing and accessories that will enhance their individual beauty.
Among the subjects often raised by participants are how to get the most for your money when shopping for clothes, how to mix and blend makeup correctly and how to transform your look from day to night.
Leather is canvas for Al Furtado art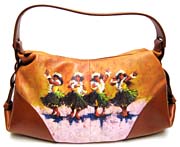 The colorful imagery of Honolulu artist Al Furtado is making its debut as wearable art at Sandal Tree, Ala Moana Center.
Two of Furtado's best-loved images, "Keiki Dance Class" and "Shave Ice," were chosen to start a line encompassing sandals, handbags and small leather goods, representing a collaboration between Sandal Tree and ICON leather.
ICON's unique printing process permanently bonds images to the leather, creating a lasting replica of the art.
Meet Furtado, who will be available to sign his pieces, during the collections debut from 11 a.m. to 4 p.m. Saturday. Shoppers can also sign up throughout March to win a giclee that has been hand-enhanced and signed by Furtado. The winners will be announced on April 1, Sandal Tree's 25th anniversary.
Fashion show stars queen contestants
The Honolulu Japanese Junior Chamber of Commerce celebrates its 56th Cherry Blossom Festival with a "Sincere Heart" fashion show and heritage fair taking place from 5:30 to 9 p.m. Saturday at the Hawaii State Art Museum.
Fifteen contestants vying for the title of Cherry Blossom queen, along with the 55th reigning court, will be modeling fashions from local designers such as Reincarnation, Polka Dot Tree House, Kari Jane and Ginger 13. Featured boutiques include Cinnamon Girl, Fashionista's Market, the Butik and Split Obsession. PINK Vodka will also be providing free samples.
The museum is at 250 S. Hotel St.
Tickets are $55. For information, e-mail cbfsales2008@live.com.