Punahou gets the nod at No. 1 in poll
Punahou drew a lot of attention during its Texas voyage.
The Buffanblu baseball team did a lot of impressing with a 3-2-1 record against the likes of Katy and several other top-20 teams from the Lone Star state.
That was enough to convince coaches and media in the Star-Bulletin Baseball Top 10. Punahou collected 11 of 13 possible first-place votes to open the season at No. 1. Certainly, that's fitting for the four-time defending state champion, but not everyone was convinced.
Here's a glance at the season-opening top five as the ILH and OIA open regular-season play today.
» Punahou brings back a posse of talent, including Star-Bulletin pitcher of the year Harrison "Jeeter" Ishida and position player of the year Paul Snieder. Zack Kometani has emerged as one of the top catchers in the state.
Kometani's power has surprised even coach Eric Kadooka. Kometani hit a 420-foot tater at Kailua over the weekend.
» Mid-Pacific is stacked, with pitchers Dane Kinoshita and Matthew McDaniel, and a hot-hitting flock of Owls. Second baseman Russell Doi hit .500 in nonconference play with 16 RBIs, and also scored 18 runs in 18 games. Outfielder Derek Tan hit .447 and scored 19 runs, and All-State first-teamer Aaron Fujiki hit .441 with two homers.
» Mililani, one of the favorites in the OIA, is one of just two island teams to beat Punahou so far. Right-hander Dustin Antolin has been smoking the opposition with a fastball that ranges between 89 and 91 mph. The Trojans have a core of first baseman-pitcher Kylen Cadiam, outfielder Jay Yoshizawa, third baseman-pitcher Joey Aquino, catcher Travis Inouye and designated hitter Travis Jones.
» Kamehameha has just four seniors, and aces Chris Pascual and Alika Pruett are just juniors. Piikea Kitamura has moved from second base to shortstop, and Ula Nakamura is a returnee at catcher.
» Kailua coach Corey Ishigo would love for his team to be under the radar, but that's impossible after an 11-10 win over Punahou. Kale Sumner (IF/OF), Keenan Tanaka (C) and Ryan Kinoshita (OF) anchor one of the best hitting teams in the state.
"We have the power to hit the ball out of most parks, but we don't have much pitching," Ishigo said.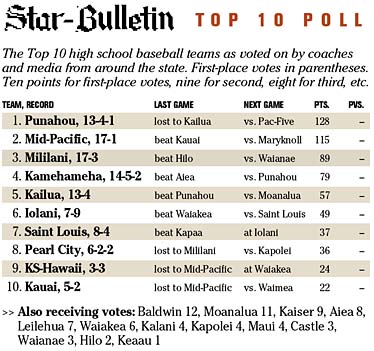 ---