Lava viewing site might be steamy
HILO » Hawaii County is preparing a new lava viewing site now that lava appears poised to enter the sea near a previous ocean entry point.
"By the end of this week, we'll have a nice safe place for people to view one of nature's greatest wonderments, its power, its creativity," said Mayor Harry Kim.
Kim expressed hope that the volcano goddess Pele will keep the flow in a neat, orderly channel so officials won't have to worry about stray fingers of lava or other hazards to viewers.
Since the early 1990s, most lava flows started in Hawaii Volcanoes National Park and flowed to the sea within park boundaries.
But since July 21, flows have been originating on state land just east of the park at or near an upland site prosaically called the "7/21 eruption site" by Hawaiian Volcano Observatory geologists.
In recent weeks, lava has flowed from there, through the huge but nearly deserted Royal Gardens subdivision, toward an area where county officials opened a viewing site on county land on Aug. 17, 2001.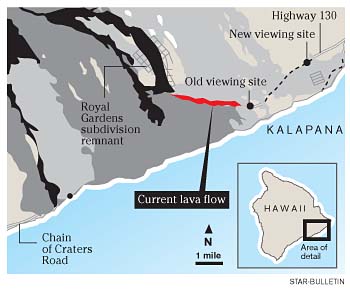 ---
The site was maintained until the flow to the sea shut off. Viewing officially ended April 17, 2002.
Observatory geologists yesterday described the lava movement across coastal flatlands as "an unusually rapid flow."
County Civil Defense official Neil Gyotoku translated that as a movement of about a half-mile a day for the past three days.
It appeared yesterday that the flow would cut off the old 2001-2002 viewing site, and officials were considering a new site about a mile to the east, Gyotoku said.
To create the previous site, officials had to bulldoze a gravel road on top of recent flows.
Yesterday, crews from the county Department of Public Works and the state Highways Division were busy widening the old gravel road, which had deteriorated.
Officials also were considering how to deal with other hazards such as fire and volcanic gas.
A large patch of old-growth vegetation remains in the area and could pose a fire hazard to visitors if lava gets into it, Gyotoku said.
If lava gets to the ocean, it vaporizes sea water into droplets of hydrochloric acid known as "laze," short for lava haze. "If it hits the water, we're going to get some acid rain," Gyotoku said.
Someone from the state Department of Health will be posted at the site to monitor air quality, he said.