| | |
| --- | --- |
| | Newswatch |
---
State quarter available in silver
The new Hawaii quarter won't be in circulation until November, but the coin can now be bought as part of a set of the five state quarters being released this year.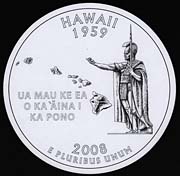 The 2008 quarters honor Oklahoma, New Mexico, Arizona, Alaska and Hawaii. The U.S. Mint 50 State Quarters Proof Set of the five 2008 quarters costs $13.95. The Silver Proof Set, struck in 90 percent silver, costs $25.95.
Proofs are made with coin blanks that are struck several times to ensure a sharp design, and have a mirrorlike background and a sculpted, frosted foreground. Proof sets come in a sealed case with a U.S. Mint Certificate of Authenticity.
The coins are available from local coin shops, on the Mint's Web site, www.usmint.gov, or by calling the mint toll-free at (800) USA-MINT (872-6468).
Hawaii's quarter features King Kamehameha I with his hand reaching toward the Hawaiian islands, and the state motto, "Ua mau ke ea o ka aina i ka pono," (The life of the land is perpetuated in righteousness).
Not guilty plea filed in attack
A man accused of trying to throw a security guard out of a 26th-floor window pleaded not guilty Monday to attempted murder, attempted assault, attempted burglary and terroristic threatening.
Joseph Joyce, 42, remains in custody in lieu of $500,000 bail. His trial is scheduled for May 5.
The charges stem from an incident at the Ala Wai Plaza at 500 University Ave. on Feb. 22.
Superferry hearings scheduled
Informational meetings on the environmental impact statement for the Hawaii Superferry will be held on six islands starting Tuesday, the state Department of Transportation said in a news release.
The EIS is required to address the impact of the Superferry.
The meetings will provide information about the EIS process, such as scheduling and resources and issues to be evaluated and there will be an opportunity for the public to provide input.
The meetings are scheduled for:
Tuesday: Kaunakakai Elementary School (Molokai) from 6 p.m. to 9 p.m.
March 14: Farrington High School Auditorium from 2 p.m. to 5 p.m. and 6 p.m. to 9 p.m.
March 17: Baldwin High School Auditorium (Maui) from 2 p.m. to 5 p.m. and 6 p.m. to 9 p.m.
March 19: Kauai Community College Performing Arts Center from 2 p.m. to 5 p.m. and 6 p.m. to 9 p.m.
March 24: Hilo High School Auditorium from 2 p.m. to 5 p.m. and 6 p.m. to 9 p.m.
March 27: Kealakehe High School (Big Island) from 2 p.m. to 5 p.m. and 6 p.m. to 9 p.m.
March 31: Lanai High School from 6 p.m. to 9 p.m.
Windward outage mystifies HECO
Hawaiian Electric Co. troubleshooters are investigating the cause of a power outage yesterday that affected about 3,600 Kailua and Kaneohe residents for more than two hours.
Power was restored at 5:50 p.m. to customers from the Pali Tunnel and Castle Junction to Windward Shopping Center and Castle High School. A company spokesman said the outage was reported at 3:40 p.m., but HECO crews did not find the source of the trouble.
Halawa offramp will be closed
The Halawa/Stadium/Camp Smith offramp from the Moanalua freeway will be closed Friday night and Saturday during the day, the state Department of Transportation announced in a news release.
Crews will be repaving the concrete from 8 p.m. Friday until 5 p.m. Saturday.
The 21-hour closure is needed to allow the new concrete time to properly cure.
Halawa-bound motorists are advised to go past the closed offramp onto Moanalua Road and use Kaimakani Street as an alternate route to Ulune Street and the Halawa area. The H-3 east/Kaneohe offramp will remain open.
Lectures cover funding college
Parents who want to learn how to fund their children's college expenses can attend a series of four presentations at the Kailua Public Library.
"Making the Grade: A Step-By-Step Guide to Education Funding" will be held at 6:30 p.m. on consecutive Thursday nights starting tomorrow under the Reading Tree. Financial adviser Karen Igarashi will discuss estimating expenses, planning, and weighing savings alternatives, such as education savings accounts and 529 college savings plans. For information, call 266-9911.
| | |
| --- | --- |
| | Police, Fire, Courts |
---
HONOLULU
Sex convict sought in registry failure Police want help in finding a 21-year-old man wanted for alleged failure to comply with sex offender registration requirements. He also is wanted on felony contempt and probation revocation warrants.
Jon Rutherford is known to frequent the Honolulu and Kalihi areas.
He is described as 5 feet 7 inches tall, 145 pounds, with light brown hair, green eyes and a fair complexion. Anyone with information is asked to call CrimeStoppers at 955-8300 or *CRIME on a cell phone.
LEEWARD OAHU
Officer threatened after alleged theft Police arrested a 34-year-old man who allegedly threatened a police officer who caught him allegedly trying to steal a car.
Police said that about 5 a.m. Monday, a witness saw the suspect tampering with the ignition of a vehicle in Pearl City. A patrol officer arrived and tried to detain the suspect, police said. The suspect then allegedly brandished a screwdriver and threatened to stab the officer.
Police said the suspect fled on foot and in an attempt to avoid arrest broke into a nearby apartment. He was later cornered and arrested on suspicion of attempted auto theft, first-degree terroristic threatening, unlawful entry into a dwelling and possession of burglary tools.
NEIGHBOR ISLANDS
Hiker rescued after injury on Kauai trail Kauai police rescued a 64-year-old injured hiker Sunday on the Sleeping Giant.
Former Kauai resident William Anderson fell and sustained minor injuries Sunday night on the Nonou Mountain Trail, Kauai County reported.
Anderson, now a Nevada resident, started calling for help at about 8 p.m. and was heard by an area resident.
Officers Danny Creamer and Christian Jenkins went to the scene and heard a faint voice. After walking 10 to 15 minutes, they found Anderson on the trail and escorted him to the bottom of the trail. Anderson was examined by medics at the scene, but declined transportation to the hospital.