Flavor blasters!
Get beyond the usual soy sauce to create your own tasty condiment
STORY SUMMARY »
ome people think soy sauce is a solution for everything. Pour it on, and you can drown out any taste that's unfamiliar -- which is the approach my 80-year-old father takes with everything from eggs to steak, much to my mother's chagrin. Kids adopt the same strategy with ketchup, and young bachelors with Tabasco, which is why the McIlhenny Co. sells the hot sauce in gallon jugs as well as teeny tiny bottles.
But even the strongest flavors dumped with a desperate hand -- salty, spicy, sweet and (let's not forget the cook's panacea) garlic -- can numb the palate after a few decades. There's a world of other condiments out there that can brighten up the same-old last-minute meal, whether it's steamed vegetables, grilled chicken or ramen noodles in the lunch room.
These seasonings, pastes, toppings and spreads are easy to stir up with ingredients from the pantry and stash in the refrigerator at work -- or, since many are shelf-stable, to send as a flavor Rx for college students, soldiers or anyone facing a prolonged spell of institutional fare.
The idea is simple: Start with a flavor booster, add one or more of its natural companions, and find a carrier for the consistency needed. Cream or yogurt turn it into a sauce, while cream cheese will stand up to crackers or pupus. Mayonnaise or butter can be slathered on anything. Liquids like fish sauce or vinegar make a base for dipping sauces or salad dressings. Finish with a toothsome sprinkling of crunch.
Even soy sauce gets respect when stirred with a little chili oil or Chinese mustard at the table. So move over, A1 Steak Sauce. The pedestrian palate is out of season.
---
FULL STORY »
Most people grope for a shaker when the first bite of a dish registers bland, so salt and pepper are still the king and queen of flavor enhancers. But groceries now carry a full court of cross-cultural herbs, spices, oils and pastes to round out the table-top retinue.
The simplest all-purpose sprinkle can be made by grinding together sea salt and peppercorns. Add toasted sesame seeds, powdered garlic or ground chilies, depending on your inclination, and you have your own take on furikake or gomashio. Hundreds of recipes for seasoned salts can be found on the Internet, with flavor themes from Cuban to Lebanese, though many end up tasting suspiciously like soup bouillon or curry powder. Simple combinations seem to work best.
For a real flavor punch, add an oil or oil-based paste. Plain sesame oil or chili oil come immediately to mind and taste good on almost anything. Mix your own oils and pastes
out of various ingredients and keep them in the refrigerator for one to two months, but commercial ones will last longer on the table.
Mayonnaise also makes a great base for all kinds of flavors -- as long as you like mayonnaise itself. Butter will last much longer if frozen in individual portions, ready to melt on vegetables or meat.
Finally, don't forget toppings. Texture is often the missing link in a plain vegetable or pasta dish: A sprinkling of toasted nuts or a grating of hard cheese might be all that's needed to turn leftovers into dinner.
Here are some tried-and-true flavor enhancers, along with ideas on how to use them.
Flavored oils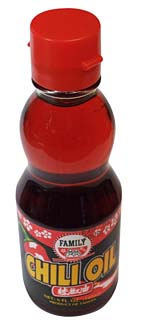 Sesame oil is my personal solution to everything, mixed with butter and/or scallions and ginger. Or whisk it with a little rice vinegar and sugar, and you have salad dressing. Chili oil also makes an all-purpose Asian flavoring, but usually needs a dash of soy sauce and maybe vinegar, sugar and/or garlic.
This Chinese oil is really convenient to toss with leftovers -- tofu, cold noodles, shredded cabbage or watercress -- and keeps at least a month refrigerated:
Many-Flavored Oil
"The Improvisational Cook" by Sally Schneider (William Morrow, 2006)
1/4 cup roasted sesame oil
1/2 cup peanut oil
3/4 teaspoon of red pepper flakes
3 scallions, white-to-light green parts, smashed and cut in 1-inch pieces
10 quarter-size slices ginger, coarsely chopped
1 tablespoon Szechuan peppercorns (optional)
Heat oils in small pan. Stir in pepper flakes; as soon as they sizzle, take pan off heat and add scallions, ginger and peppercorns. Cover and steep at least 1 hour or overnight. Strain and refrigerate.
Flavored butter
Herbed butter is a convenient way to preserve fresh herbs, since we rarely use the full quantity sold. Soften a stick of butter and cream it with 1/4 cup finely chopped herbs, mixing types if you like. Use it within a couple of days or freeze it into a sliceable log.
If you don't like herbs, butter and lemon are a classic combination, as are butter and garlic. For the former, use both lemon zest and a little lemon juice. Garlic can be boiled and puréed, or chopped raw with parsley and lemon.
Hot pastes
Spicy pastes are an indispensable condiment at my house, and some commercial ones will keep on the table for weeks in cooler temperatures. Stir an Indian pickle (mango, lime or mixed) with mayonnaise to make a zesty spread, then water it down with a dash of mirin and lemon zest for a salad dressing or dip.
Try the same with any of the dozens of Asian chili pastes, such as sambal oelek -- aficionados swear by the brand Huy Fong -- as well as the ubiquitous Korean hot sauce, kochujang. I always look for a chili paste made without vinegar, for the more subtle flavors, though these are probably less safe unrefrigerated.
Horseradish
I love to mix the bottled kind with mayonnaise as a sandwich spread, while the Japanese version (wasabi) also pairs well with any cream, sour cream, mayonnaise, or white sauce to accompany meat and fish. Try adding a little lemon, vinegar, or mustard to taste.
Flavored mayonnaise
Fans of mixing things with mayonnaise will stop at nothing: wasabi, garlic, ginger, lemon zest, herbs, anchovy; I've even heard of bacon or Italian dressing. Such concoctions are best used within a day or two, though powdered ingredients benefit from letting the flavors meld for a few hours in the refrigerator.
Wasabi mayonnaise goes well with any kind of seafood and even on vegetables. Try one of these combinations:
» Dissolve 2 tablespoons wasabi powder in a little water and mix in 1/2 cup mayonnaise; refrigerate at least 30 minutes.
» Use 1 teaspoon wasabi and 2 tablespoons drained capers
» Or 2 teaspoons wasabi with 2 teaspoons of soy sauce, 3/4 teaspoons sugar and 1 teaspoon lemon juice.
Note that wasabi in the tube is less flavorful than the powder, so you might need to use more.
Seasoned salts
Too many of these taste like Mrs. Dash, though the simpler ones make convenient seasoning for any meat or fish before grilling. My favorite is sea salt, peppercorns, dried ginger and dried garlic, coarsely ground together.
One standout, from Iron Chef Masaharu Morimoto, goes with many types of food, East and West, and is subtle enough to enhance rather than overpower:
Special Spice
"Morimoto: The New Art of Japanese Cooking," by Masaharu Morimoto (DK Publishing, 2007)
1 tablespoon each ground chilies (pure chili powder) and sweet paprika
1-1/2 teaspoons salt
3/4 teaspoons each ground pepper, cumin, coriander, ginger, garam marsala and cayenne pepper
Combine ingredients. The mix should last at least three months away from heat and light.
Vinegar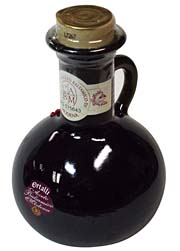 Balsamic has long been the gourmet ketchup, sprinkled liberally on everything. The genuine article costs at least $30 for 8 ounces, however, and is good enough to eat with a spoon. The stuff you buy in the supermarket is basically distilled vinegar with caramel flavoring, which grows tiresome sprinkled on everything.
A far cheaper option for Asian-flavored dishes is Chinese black vinegar, also known as Chinkiang. Splash it on braised dishes or stir-fries for a complex, malty flavor to pair with your soy sauce.
Bacon
I am one of those cooks who cannot be trusted not to sneak bacon into everything, from pasta to stir-fry to chili and salad dressing. To my mind, nothing adds umami like a couple of fat slices chopped and fried and sprinkled in, using a little of the grease in the pan to fry other ingredients.
You can cut back on the fat with the more-refined pancetta or prosciutto, but they cost far more.
Anchovies
This is another ingredient that you're better off not mentioning, as it adds a rich, sophisticated flavor that no one will trace to canned fish. The trick is to buy the best-quality fillets -- the meaty ones sold in glass jars are better than tinned -- and never subject them to high heat.
Italian chef Marcella Hazan advises rinsing off the salt, chopping them fine and smashing them in warm oil or butter until they dissolve. Then toss with vegetables or potatoes, or add to any Italian tomato sauce, or mix with chili oil and garlic as a spread for bread. Anchovies pair well with garlic, capers, olives, parsley, or lemon.
Fish sauce
Either you love it or you don't. Fish sauce is a very strong-smelling form of fermented anchovy, and if you like Southeast Asian dishes, it can make for a quick salad dressing: Mix fish sauce with equal parts vinegar, sugar and hot water. This should keep for two months refrigerated. Or mix it with plenty of lime juice, some brown sugar and chilies -- this one won't keep, as lime juice loses flavor quickly.
Mustard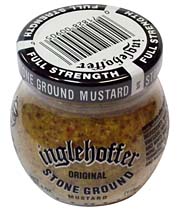 Dijon and Chinese types are often overlooked as a source of that "something missing" in overly bland cream sauces, dips and mayonnaise dressings. Mustard also is great on its own as a dip for steak or roast beef.
Toppings
Grate some toast and mix it with herbs and melted butter, add a hard cheese like parmigiano, romano or pecorino, and sprinkle it on vegetables, pasta or casseroles to run under the broiler for a few minutes.
Hard cheeses are easy to keep on hand -- most will keep in a cold refrigerator for months, though they don't survive freezing well -- but they should always be grated fresh. I also keep around a jar of roasted nuts such as almond, peanut, walnut or cashew, to chop and sprinkle on any dish to make it more substantial and popular.