Hotel occupancy has first boost since April 2006
An influx of visitors last month helped bolster Hawaii's hotel occupancy by 1.7 percentage points in January, the first statewide increase since April of 2006, according to a Hotel Flash Report released yesterday by Hospitality Advisors LLC.
Demand for hotel rooms pushed statewide occupancy to 75.7 percent and increased the average daily rate to $213.49, a 6.5 percent price increase. As a result, hoteliers saw their revenue per available room, or RevPAR, increase to $161.68 -- a healthy 8.9 percent gain.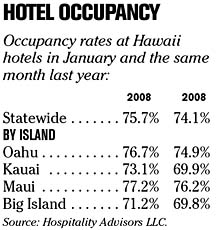 Hotels in every category except economy posted occupancy increases last month. All hotel categories saw increased average daily room rates and RevPAR.
"Compared to last January, we had a really good month," said Keith Vieira, senior vice president and director of Hawaii operations for Starwood Hotels & Resorts Worldwide Inc. "The U.S. market is up, which is a good sign. The bad news is that the Japanese market is still down and is not stopping its downward trend. The biggest challenge for hotels continues to be our lack of groups."
The gains in the hotel market reflected the reported increases in visitor arrivals and average daily spending from the state Department of Business, Economic Development and Tourism. According to the state's latest counts, the number of air visitors who came to Hawaii in January increased 4 percent over January 2007, to 584,394. Overall expenditures from air visitors rose 8.3 percent from $84.1 million to $1.1 billion, the largest increase since June 2006.
By island, Maui was the hotel performance leader. Maui's upscale hotel market, which posted a 14.6 percent daily room rate gain in the luxury Wailea region, helped hoteliers recoup a 10.5 percent increase in RevPAR. Hoteliers earned an average of $197.39 in revenue per available room and saw occupancy edge up 1 percentage point to fill approximately 77.2 percent of their rooms.
"The increase of group business in 2007 allowed us to command premium rates for leisure business and we expect to have similar solid results in February as well. This is all possible because of demand," said Craig Anderson, general manager of the Westin Maui Resort & Spa, Kaanapali. "Additionally, The Westin Maui Resort & Spa completed its upgrade of all guest rooms in 2007."
Oahu, the next-highest-performing market, saw occupancy improve 1.8 percentage points to 76.7 percent. Average daily room rates on Oahu also increased to $177.12, a 4.8 percent price gain. RevPar climbed 7.3 percent to $135.85.
"We were very happy with our January results, which mirrored the industry performance," said Beth Churchill, vice president of sales and marketing for Aqua Hotels and Resorts. "We've lost some of our business from Japan and the U.S. mainland due to surcharges and the mortgage market, but our international travel market was very strong."
Kauai saw its occupancy level rise 3.2 percentage points to 73.1 percent. Kauai's hotel guests also paid an average of $217.15 per room, a 6.7 percent price gain. RevPar increased 11.6 percent to $158.74.
The Big Island saw occupancy rise 1.4 percentage points to 71.2 percent. Average daily room rates on the Big Island also rose 7.7 percent to $223.27. RevPar rose 9.9 percent to $158.97.