---
FAST FACTS HAWAII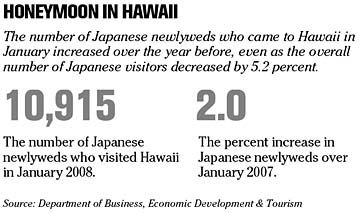 ---
HAWAII
Interisland fuel surcharge jumps
Interisland cargo shipper
Young Bros.
more than doubled its fuel-price adjustment to 2.78 percent today due to rising fuel costs.
The Honolulu-based company, which had warned late last month it planned to increase the surcharge by between 2.5 percent and 3 percent, said its fuel costs have risen 21.89 percent over the last six months. Young Bros. was waiting until the end of the month to figure out its costs and revenue before calculating the exact amount of the increase.
Young Bros. had been assessing a 1.29 percent surcharge since Dec. 4 after receiving approval from the state Public Utilities Commission in October. The surcharge is reviewed quarterly.
The higher surcharge will add about 1 cent to the cost of shipping a 24-package case of saimin.
NATION
Hard-drive maker lifts outlook SAN JOSE » Seagate Technology is lifting its fiscal third-quarter outlook because of better-than-expected performance for its high-end products.
The hard-drive maker said yesterday it's forecasting earnings of 63 cents to 67 cents per share, up from 57 cents to 61 cents per share in an earlier forecast, based on generally accepted accounting principals.
Excluding about $27 million in one-time items, the company is forecasting earnings of 68 cents to 72 cents per share, up from an original forecast of 62 cents to 66 cents per share. Seagate continues to expect revenue to be $3.2 billion to $3.3 billion.
Staples trims 2008 forecast
BOSTON » While
Staples Inc.
is weathering the economic downturn better than rival
Office Depot Inc.
, the world's largest office products supplier sees no quick turnaround.
Staples' retail customer traffic fell 6 percent in the fourth quarter, and "remains choppy," Staples Chairman and CEO Ron Sargent said.
Staples earned $333.2 million, matching the expectations of analysts surveyed by Thomson Financial. A year earlier, profit was $336.5 million. Sales rose 1 percent to $5.32 billion -- just shy of analysts' expectations for $5.37 billion -- from $5.29 billion a year earlier.
WORLD
China takes aim at inflation BEIJING » China's premier called today for "powerful measures" to rein in the persisting inflation battering ordinary Chinese, saying the government will use further price controls and curb soaring investment to hold prices to a 4.8 percent rise.
In an annual policy speech to the national legislature, Premier Wen Jiabao said restraining the inflation that has accompanied surging economic growth was a leading priority for the government this year.
Overall, Wen said that the government was sticking to its normal planning target for economic growth of 8 percent -- an almost unrealistic goal given the economy's strength.
BRIEF CASE
CHARGING UP
:
General Motors Corp.
and
Daimler AG
unveiled new plans yesterday for their next-generation hybrids. Daimler AG will introduce a lithium-ion hybrid model in 2009, followed by General Motors in 2010.
---
TAKING NOTICE
BOARD ELECTIONS
» Big Brothers Big Sisters of Honolulu has appointed three new board members:
Dustin Sellers
, president of business development and marketing for ProService Hawaii.
Paul Brown
, founder of Paul Brown Hawaii and the Institute of Beauty and Wellness Technologies.
Lauren R. Hong-Wright
, sales team supervisor at United Airlines.
» Women's Fund of Hawaii elected its new officers for 2008: Dr. Tyrie Jenkins, chair; Chenoa Farnsworth, vice chair; Judy Bishop, treasurer; and Alison Machida, secretary. Kari Leong has been named as a new board member.
» Child and Family Service has named its board of directors for 2008: Officers are Hoyt Zia, chair; Robert Fujioka, first vice chair; Shelley Thompson, second vice chair Carol Ai May, secretary; and Joanie Shibuya, treasurer. President and chief executive officer Howard Garval serves as an ex officio member of the board. Mary Luther is the new guild chair and guild liaison to the board. Directors are Stephanie Ackerman, John Arizumi, Kyle Chock, Paul Higo, Stanley Hong, Kathy Inouye, Tim Johns, Gen. Dwight Kealoha, Anton Krucky, Lori Lum, Stephen MacMillan, Lynn McCrory, Steve Metter, Anna Peters, Michael Ruley, Rann Watumull, Mark Yamakawa and Neal Yokota.
AWARDS/CERTIFICATIONS
» The National Association of Home Builders has named
Castle & Cooke Homes Hawaii
as a winner of the 2007 Safety Award for Excellence. The company won in two categories: Greater than 100 but less than 1000 home starts per year, and Home Builder Safety Professional of the Year, recognizing safety manager
Mary Silva
.
» Architects Hawaii has announced the following staff members with achieving the Leadership in Energy and Environmental Design accreditation: Ron Dean, AIA; Brad Inovejas, associate AIA; Halina Kunz, associate IIDA; Ryan Lambert, associate AIA; Mariel Moriwake, associate AIA; Marni Murdock, AIA; and Glenn Yokotake, AIA, CDT. The LEED designation is the nationally accepted benchmark that recognizes professionals for their understanding of design, construction and operation of green building practices.
---
BUSINESS PULSE