No deals for CompUSA sites
The failed national retailer shuttered its Ala Moana and Pearl Highlands stores
CompUSA sold off the scant inventory left on its store shelves over the weekend and has closed its doors for good at Ala Moana Boulevard and Pearl Highlands.
DJM Realty, the real estate arm of Gordon Brothers Group, a restructuring firm that took over the company in December, still lists the two properties for assignment on its Web site.
Joe DiMitrio, listing broker for the two stores, said the Pearl Highlands CompUSA space will go back to its owner.
Boston-based AEW Capital Management owns Pearl HIghlands, having acquired the property in 2006. The existing CompUSA space there measures more than 45,000 square feet.
"We're still working on Honolulu," said DiMitrio, who confirmed there has been plenty of interest, but declined to say more.
The standalone CompUSA store at 604 Ala Moana Blvd. measures 40,000 square feet, and sits on land owned by Kamehameha Schools. The lease expires in July 2018.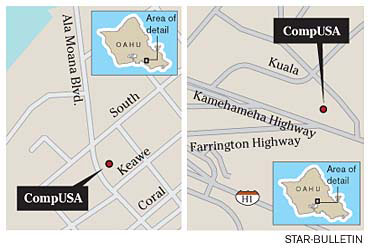 ---
Gordon Brothers, which set up Specialty Equity LLC to handle the CompUSA deal, had announced it would close all 103 stores across the U.S., but was planning to sell stores in key markets.
The Ala Moana store was the top-grossing in the nation, said Ken Elton, former manager of CompUSA in Kakaako.
Though rumors abounded that mainland firms TigerDirect or Micro Center were negotiating to take over the Hawaii CompUSAs, no deals have materialized.
Systemax, which owns Tiger-Direct, announced an agreement to acquire the CompUSA brand, trademarks, e-commerce and 16 retail stores in Florida, Texas and Puerto Rico in January.
The Hawaii stores were not included in the $30 million deal.
James Kerr, chief geek of SuperGeeks, meanwhile, says his company is owed $300 by CompUSA for doing work for one of their clients on-site about a year ago -- but also is seeing plenty of extra business from the closure
He doesn't expect to see that unpaid bill any time soon. But beginning April 2, Kerr said SuperGeeks will extend its hours Monday through Friday to 8 a.m. to 8 p.m., and add a night shift, to meet the growing demand from former CompUSA customers.
"All around, there's a lot of good opportunity for us," said Kerr. "We're glad to see CompUSA go. Our next target is Best Buy."
Personal Touch Computers, across the street from the now-shuttered CompUSA at 311 Keawe St., meanwhile, is also getting more customers. Owner Jeff Litvinoff said Personal Touch is hoping to take over the extended warranty service from CompUSA partner Assurant Solutions.